When: Thursday, November 8, 2012, 7:00 pm - 10:30 pm (iCal) Where: SEIU 1199, 310 W 43rd Street, New York, NY (See map)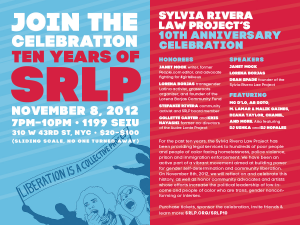 For the past ten years, the Sylvia Rivera Law Project has been an active part of a vibrant movement aimed at transforming marginalizing cultures and practices, dismantling oppressive institutions and systems, and building power for gender self-determination and community liberation. On November 8th, 2012, we will reflect on and celebrate this history, as well as honor community advocates and artists whose efforts increase the political leadership of low-income and people of color who are trans, gender nonconforming or intersex.
Desde hace diez años, el Proyecto Legal Sylvia Rivera ha estado una parte activa de un movimiemto vibrante, y tenía como objetivo transformar culturas y costumbres que marginan, desmantelar instituciones opresivas y sistemas opresivos, y construir poder para la autodeterminación de género y la liberación de comunidades. En 8 de Noviembre, 2012, vamos a reflexionar sobre y celebrar ésta historia, además de honrar los defensores y las defensoras de la comunidad y artistas cuyos esfuerzos aumentan el liderazgo político de personas de color y personas de bajo ingreso que son transgéneros, inconformistas de género, y intersexuales.
Get tickets for SRLP 10 Year Anniversary!
Latest News on SRLP 10
Meet Our Honorees
Janet Mock is a writer and advocate, who publicly shared her teenage transition story in Marie Claire and a video testimony for the It Gets Better project in 2011. A native of Honolulu, Hawaii, Janet speaks out about the portrayal, struggles and triumphs of transgender women, founded and runs the digital campaign #GirlsLikeUs to empower trans women, and wrote about her quest to live visibly in Fish Food: A Memoir, which will be published by Atria Books in October 2013. She also tells stories from her life on her blog and hosts a relationships podcast called The Missing Piece with her boyfriend Aaron Tredwell.
To learn more about Janet Mock, please visit – http://janetmock.com/janet-mock-bio/
Janet Mock es escritora y defensora, que expresó en público su historia de transición adolescente en "Marie Claire" y un testimonio video para el proyecto "Todo mejorá" (It Gets Better) en 2011. Una nativa de Honolulu, Hawaii, Janet habla con fuerza sobre la representación, las luchas, y los triunfos de mujeres transgéneros, fundó y dirige la campaña digital #ChicasComoNosotras (#GirlsLikeUs) para fortalecer mujeres transgéneros, y escribió sobre su búsqueda de vivir visiblemente en "Comida para pez: Memorias" (Fish Food: A Memoir), que va a ser publicado por Libros Atria (Atria Books) en Octubre 2013. Ella también cuenta historias de su vida en su blog y presenta un podcast sobre relaciones llamado "El pedazo perdido" (The Missing Piece) con so novio Aaron Tredwell.
Para aprender más sobre Janet Mock, por favor visita http://janetmock.com/janet-mock-bio/
Lorena Borjas  is a transgender Latina activist and a grassroots organizer. Her principal goal is to bring awareness to the vast array of issues that impact marginalized and oppressed communities. She advocates for human rights and social justice. For the past two decades, she has empowered community members to become agents of change. She put together the Lorena Borjas Community Fund (LBCF) to bring awareness to the vast array of issues that impact the marginalized LGBT community, specifically focusing on low-income, immigrant communities. LBCF Fund is a volunteer-run project created to institutionalize the support that Lorena has provided for years. The LBCF Fund supports low-income gay, bisexual, lesbian, transgender, queer, questioning, intersex, and gender non-conforming immigrants avoid the collateral consequences associated with criminal convictions, jail time and court appearances.
Lorena Borjas es activista transgénero Latina y organizadora política de las bases. Su meta principal es despertar conciencia acerca de la vasta variedad de problemas que tienen impacto en comunidades marginalizadas y oprimidas. Aboga por derechos humanos y justicia social. Desde hace dos décadas, ella ha fortalecido miembros de la comunidad para hacerse agentes de cambio. Reunió el Fondo de Comunidad Lorena Borjas (Lorena Borjas Community Fund (LBCF)) para despertar conciencia acerca de la vasta variedad de problemas que tienen impacto en la comunidad LGBT marginalizada, con un foco específico en comunidades inmigrantes de bajo ingreso. El LBCF es un proyecto dirigido por voluntari@s creado para institucionalizar el apoyo que Lorena ha provisto durante años. El LBCF apoya inmigrantes de bajo ingreso gay, bisexual, lesbiana, transgénero, queer, inquiriendo/explorando, intersexual, y inconformistas de género y ayuda a ell@s a evitar las consecuencias colaterales que tiene que ver con condenas, la pena de cárcel, y comparecencias ante los tribunales.
Kris Hayashi is the former co-director of the Audre Lorde Project. For seven years Kris was part of Youth United for Community Action (YUCA), a community organizing organization in California, led by young people of color organizing for justice. He served as YUCA's Executive Director, managing two offices and a budget of over half a million. Kris has been active in various social justice organizing campaigns for nearly 20 years. Kris has been the Co-Executive Director for the Audre Lorde Project since 2003. The Audre Lorde Project is a Lesbian, Gay, Bisexual, Two Spirit, Trans and Gender Non Conforming People of Color center for community organizing, focusing on the New York City area. Through mobilization, education and capacity-building, we work for community wellness and progressive social and economic justice. Committed to struggling across differences, we seek to responsibly reflect, represent and serve our various communities.
El Codirector anterior del Proyecto Audre Lorde. Durante siete años, Kris fue parte de Juventud Unida por Acción Comunitaria (Youth United for Community Action (YUCA)), una organización que moviliza la comunidad a nivel de las bases en California, dirigido por jóvenes de color organizando por justicia. Sirvió como Director Ejecutivo de YUCA dirigiendo dos oficinas y un presupuesto de más de un medio millón de dólares. Kris ha estado activo en campañas varias de organización comunitarias por justicia social durante casi veinte años. Kris ha sido el Codirector Ejecutivo para el Proyecto Audre Lorde desde 2003. El Proyecto Audre Lorde es un centro Persona de Color Lesbiana, Gay, Bisexual, Dos Espíritu, Transgénero, y Inconformista de Género para organización comunitaria, con un foco en el área de la Ciudad de Nueva York. Mediante movilización, educación, y la construcción de capacidades, trabajamos para la salud comunitaria y justicia progresiva social y económica. Comprometido con lucha a través de diferencias, nos esforzamos por reflejar, representar, y servir responsablemente nuestras comunidades varias.
Collette Carter is the former co-director of the Audre Lorde Project (a community organizing center for lesbian, gay, bisexual, two-spirit, trans and gender non-conforming people of color) and a self-identified "black queer fat femme activist." She says, "I believe at the heart of lasting movement-building is the work of making spaces which help us sustain hope and the possibility for survival, as well as transformation."
El Codirector anterior del Proyecto Audre Lorde (un centro de organización comunitaria para personas de color lesbianas, gay, bisexuales, de dos espíritus, transgéneros, y inconformistas de género) y se identifica como "activista femme gorda queer negra." Ella dice, "Creo que en la corazón de la construcción perdurable de movimientos es el trabajo de construyendo espacios que nos ayudan a sustentar la esperanza y la posibilidad de sobrevivencia, además de transformación."

Stefani Rivera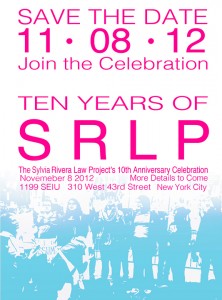 Our MC
D'Lo is a queer Tamil Sri L.A.nkan-American, political theatre artist/writer, director, comedian and music producer. D'Lo has performed and/or facilitated performance and writing workshops extensively (US, Canada, UK, Germany, Sri Lanka and India). D'Lo is also the creator of the "Coming Out, Coming Home" writing workshop series which have taken place with South Asian and/or Immigrant Queer Organizations nationally (LA, NY and SF). Visit http://dlocokid.com/ to learn more
Featuring performances by AB Soto, M. Lamar, Malik Gaines, Diana Taylor, and Chanel International!
Also featuring the musical stylings of DJs Ushka & Nopales!
Purchasing tickets and RSVP
Register to attend SRLP 10 Year Anniversary!
Sponsor
Looking to sponsor SRLP's 10th Anniversary? Please fill out the sponsorship form and email it to Ola@srlp.org or call 212.337.8550 x300 to learn more.
NUESTR@ MC
D'Lo es artista/escritora de teatro política, directora, cómica, y productora de música Sri L.A.nkamericano tamil cingalés queer. D'Lo ha representado y/o ha facilitado representación y telleres literarios extensamente (Los EEUU, el Canadá, el Reino Unido, Alemania, Sri Lanka, y la India). D'Lo también es creadora de la serie de talleres literarios "Saliendo, Volviendo" ("Coming Out, Coming Home") que han tenido lugar con organizaciones queer sudasiáticas y/o inmigrantes a escala nacional (LA, NY, y San Francisco). Visita http://dlocokid.com/ para aprender más.
¡Con las actuaciones de AB Soto, M. Lamar, Malik Gaines, Chanel International y Diana Taylor!
¡También con los estilos musicales de DJs Ushka y Nopales!
Gold Sponsor
Silver Sponsor

Bronze Sponsors
Peter Cicchino Youth Project

War Resisters League
THANK YOU TO OUR RAFFLE/IN-KIND DONORS
Vic's Bagel Bar – http://vicsbagelbar.com/
The Works Catering – http://www.theworkscatering.com/
LJ Roberts – http://laceyjaneroberts.com/
Tristan Taormino Enterprises, Inc – http://tristantaormino.com/
Brooklyn Boihood – http://www.bklynboihood.com/
Carmichael Monaco
Camera Ready Kutz – http://www.camerareadykutz.com/
Wonder Lee – http://wonderlee123.storenvy.com/
Brooklyn Open Acupuncture – http://brooklynopenacupuncture.com
Alicia Ohs – http://ayoyoga.com/workshops/
Host Committee/Comité de anfitriones
Allison Palmer
Carrie Davis
Gabriel Arkles
Gabriel Foster
Lorraine Ramirez
Reina Gossett
Roberta Rivera
Roo Khan
Yvette Choy
Tyrone Boucher
Planning Committee/Comité de planificación
Alisha Williams
Chiemi Suzuki
Craig Wilse
Dean Spade
Helen Stillman
Jonah Groeneboer
Sabelo Narasimhan
Jorge Irizarry-Vizcarrondo
Ola Osaze
Image designed by Jonah Groeneboer/Imagen diseñada por Jonah Groeneboer
Contact:
Ola Osaze
212.337.8550 x300
ola@srlp.org
SEIU 1199
310 W 43rd Street
New York, NY