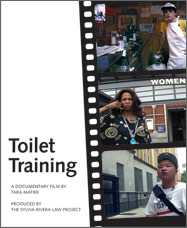 A film by Tara Mateik and the Sylvia Rivera Law Project
Copyright 2003 / Run Time: 30 minutes / Color / Spanish Subtitling Option/ DVD only. Comes with a Companion Guide for Activists and Educators
Toilet Training is a documentary video and collaboration between transgender videomaker Tara Mateik and the Sylvia Rivera Law Project, an organization dedicated to ending poverty and gender identity discrimination. The video addresses the persistent discrimination, harassment, and violence that people who transgress gender norms face in gender segregated bathrooms. Using the stories of people who have been harassed, arrested or beaten for trying to use bathrooms, Toilet Training focuses on bathroom access in public space, in schools, and at work.
We also do screenings!
For information about a screening, with Q&A, of Toilet Training at your school or organization, contact ethan [at] srlp.org
Includes discussion of legal questions of equal access; the health effects associated with "holding it"; and the social consequences of experiencing pervasive discrimination in bathrooms and other gendered spaces. Interviews with lawyers, social workers and activists explore current law and policy, and highlight recent and future policy changes necessary to enable equal bathroom access for all. Concluding with examples of policy change, Toilet Training provides a necessary foundation to public education and organizing to address this overlooked issue. This race, age, ability and gender diverse video is a great activist tool for those who want to struggle for gender self-determination and bathroom liberation for all people starting with local communities and institutions. Toilet Training is also an excellent classroom resource. Appropriate for undergraduate and graduate classes in Women's Studies, Gender Studies, LGBT Studies, Disability Studies, Law, Social Work and Education. Comes with a companion toolkit full of useful facts and talking points about trans equality and bathroom access. Download the Companion Guide for Activists and Educators.
Ordering information:
Please refer to the Toilet Training License Agreement before ordering!
To order, please fill out the online order form below or you can print out the Toilet Training Order Form and send it to us!.
Price:
• Colleges/Universities/Institutions: $195 • High Schools/Nonprofit & Community Organizations: $75 • Don't have 75 bucks? Don't worry! There is a sliding scale option.   You can pay for the DVD online, send a check or money order, or call to give us your credit card info.