General Volunteer Opportunities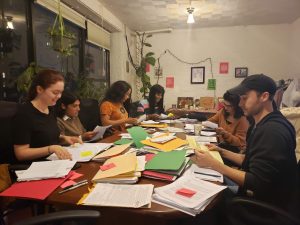 Thank you for your interest in volunteering with The Sylvia Rivera Law Project (SRLP). We are always in search of community members to help us accomplish our mission. We greatly appreciate your offer to be a volunteer.
We often need assistance with material distribution, office work (data entry, photocopying, faxing, filing, etc.), media/press, translation, writing to our members who are incarcerated, graphic design, film and media, outreach, and editing.
We host a monthly Volunteer Night on the last Thursday 6pm-8pm. Our next Volunteer Night is Thursday, April 27th 2023. Please contact MBT@srlp.org for upcoming dates and details. All are welcome however space is limited and RSVP is required; please feel free to join us at our office (147 W 24th Street, Floor 5) at any Volunteer Night. If you cannot attend on Thursday nights, please email volunteer@srlp.org to let us know, in addition to completing the form linked here.
Volunteer Application