The Sylvia Rivera Law Project is hiring a legal intern and a fundraising and finance intern for the fall cycle!
Legal Intern (Direct Services Team)
SRLP's Direct Services Team is seeking 2-3 interns for the fall semester! Join our Survival and Self-Determination, Immigrant Justice, and Prisoner Justice Projects in providing direct legal services and policy work to trans, gender non-conforming and intersex New Yorkers. We are seeking law students or people with comparable legal background or experience who are available 5-12 hours a week from August/September to November/December or who are available over the December/January break. Fluency in Spanish is always preferred and people of color, trans, gender non-binary people, and people with intersex conditions are strongly encouraged to apply. These internships are unpaid but we are happy to support you in getting school credit or offering letters of support for scholarships.
To apply please send a cover letter, resume and, if you wish, an optional writing sample of no more than five pages (a section of a longer work is fine) to dst@srlp.org. In the cover letter please state why you are interested in interning with SRLP, what project area is most of interest to you, and your availability.
Past interns have worked on research and writing memos of law to challenge restrictive name change rulings, met with SRLP member-clients to co-write policy statements on issues such as health care coverage, PREA, and GENDA, assisted in staffing intake hours for our open clinic, staffed our legal helpline, responded to the hundreds of letter we receive each month from people in prisons and jails, accompanied clients to correct ID documents and/or stand up with the client in name change court, and many other important tasks!

Fundraising and Finance Intern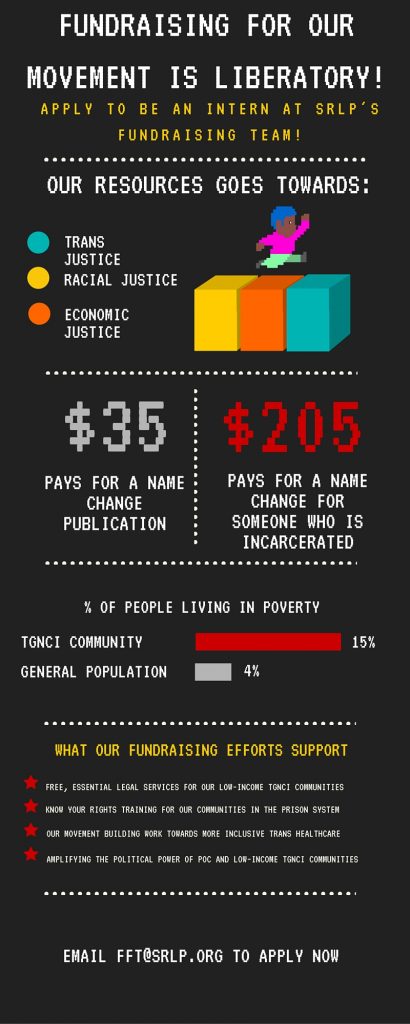 Are you interested in communications and development? Would you like to learn more about fundraising, social media, and public relations in the nonprofit sector? Are you ready to get hands-on building momentum for our movement, bringing in resources to support the needs of the trans, gender non-conforming and intersex (TGNCI) community, and growing our political power? If so, great new! The Sylvia Rivera Law Project (SRLP) is seeking an intern to join the Fundraising and Finance Team!
Through this internship, you will gain familiarity with many aspects of development. You will be working on grassroots fundraising campaigns, which includes social media outreach, event planning, and managing communications and cultivating donor relations. You will also be working with institutional fundraising in areas of grant writing and research. Interns and volunteers often also work on our biannual newsletter and our biannual direct mailings. You will learn how to maintain our various databases and use applications such as Adobe Photoshop, Adobe InDesign, Microsoft Office, WordPress, CiviCRM, and more.
Our mission at SRLP is to guarantee that all people are free to self-determine their gender identity and expression regardless of income or race and without facing harassment, discrimination or violence. We believe that trans justice is inextricable from racial, gender and economic justice, so we aim to increase the political voice of low-income people of color who are trans, intersex or gender non-conforming. SRLP is an equal opportunity employer. People within the TGNCI community, people of color, women, femme-identified people, people with disabilities and immigrants are strongly encouraged to apply! No legal knowledge and experience is required for this internship.
Internships are 8-20 hours/week during the school year and usually last twelve weeks. Internships are unpaid and must be completed in the office during the regular hours of 10:00 a.m. to 6:00 p.m. with occasional evening or weekend hours required for certain internships. Please indicate hours of availability and date available to start in the cover letter.
We are happy to assist interns in applying for school credit.
To apply:
Please send a resume and cover letter to fft [at] srlp.org or by mail to
FFT Intern Hiring
Sylvia Rivera Law Project
147 W. 24th St., 5th Fl.
New York, NY 10011
Applications will be accepted on a rolling basis. Please indicate Summer, Fall, Winter, or Spring in your application.