Toilet Training

A film by Tara Mateik and the Sylvia Rivera Law Project.
Copyright 2003 / Run Time: 30 minutes / Color / Spanish Subtitling Option/ DVD only. Comes with a Companion Guide for Activists and Educators.
Film Info **New Spanish Subtitling Menu Option**
Toilet Training is a documentary video and collaboration between transgender videomaker Tara Mateik and the Sylvia Rivera Law Project, an organization dedicated to ending poverty and gender identity discrimination. The video addresses the persistent discrimination, harassment, and violence that people who transgress gender norms face in gender segregated bathrooms. Using the stories of people who have been harassed, arrested or beaten for trying to use bathrooms, Toilet Training focuses on bathroom access in public space, in schools, and at work.
Includes discussion of legal questions of equal access; the health effects associated with "holding it"; and the social consequences of experiencing pervasive discrimination in bathrooms and other gendered spaces. Interviews with lawyers, social workers and activists explore current law and policy, and highlight recent and future policy changes necessary to enable equal bathroom access for all. Concluding with examples of policy change, Toilet Training provides a necessary foundation to public education and organizing to address this overlooked issue. This race, age, ability and gender diverse video is a great activist tool for those who want to struggle for gender self-determination and bathroom liberation for all people starting with local communities and institutions. Toilet Training is also an excellent classroom resource. Appropriate for undergraduate and graduate classes in Women's Studies, Gender Studies, LGBT Studies, Disability Studies, Law, Social Work and Education. Comes with a companion toolkit full of useful facts and talking points about trans equality and bathroom access. Download the Companion Guide for Activists and Educators. ** As of 5/2010 the DVD now has a Spanish Subtitling menu option! *
We also do screenings!
For information about a screening, with Q&A, of Toilet Training at your school or organization, contact SRLP staff: speaking@srlp.org
Ordering Info
Please refer to the Toilet Training License Agreement before ordering! To order, please pay by credit card online, or fill out the order form below to pay by check. You can also print out the order form and send it to us! For questions, or to order, contact Ola Osaze at ola@srlp.org or 212.337.8550 x 300.
Price:
Colleges/Universities/Institutions: $195 • High Schools/Nonprofit & Community Organizations: $75 • Don't have 75 bucks? Don't worry! There is a sliding scale option. You can pay for the DVD online, send a check or money order, or call to give us your credit card info
Click here to see a Trailer
Click here to order a copy of Toilet Training online
SRLP 2014 Calendar $15.00*
It was so popular last year so we had to bring it back.  The 2014 SRLP calendar is almost here. This is a limited run so pre-order yours today!
This calendar was designed using the artwork of SRLP's Prison Advisory Committee (PAC) members and collages by artist, Caroline Paquita.  As PAC members are housed in New York State detention facilities, artists use whatever limited materials are available to them.  Often we receive drawings, poetry and doodles on used envelopes, lined paper or on corners of manila folders. Even while existing in some of the most violent and isolating conditions, members of PAC (like so many oppressed communities) continue to find ways to survive, resist and break down the distance and physical barriers created to systematically divide our communities.  This calendar was designed to raise funds to support the ongoing work of SRLP and to extend the reach of PAC.  It was also created to expand our historical knowledge, honoring those like Sylvia Rivera who never stopped fighting for us.  There are only 500 copies being made so don't delay.  Order now.
SRLP 10 T-Shirts $25.00*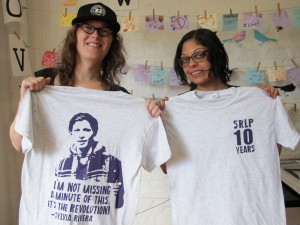 Limited edition SRLP 10 Year Anniversary T Shirts, designed by Ginger Brooks Takahashi & Dana Bishop.
"I'm not missing a minute of this. It's the revolution!" -Sylvia Rivera
That's right, you really won't want to miss out on these.  This limited run of t-shirts were designed especially for SRLP's 10th Anniversary by artists, Ginger Brooks Takahashi & Dana Bishop.  Honor the legacy of Sylvia and celebrate 10 years of SRLP at the same time… in style!
*Shipping and handling included in the price.