SRLP will be closed on 1/27/15. Tomorrow's new member orientation is canceled. Our regular membership events will resume next Tuesday, February 2 and the next new member orientation will be held on Tuesday, February 24. To stay connected with our upcoming events, visit http://srlp.org/events or check out the list below.
We hope to see you this Friday, January 30 with our comrades at ALP and GLOBE as we take stock of our work and celebrate our success in the campaign to end trans exclusions in New York's Medicaid policies. More info here: https://www.facebook.com/events/765248523571356/
For safety tips and travel warnings, visit: http://www1.nyc.gov/site/severeweather/index.page
Stay safe and stay warm!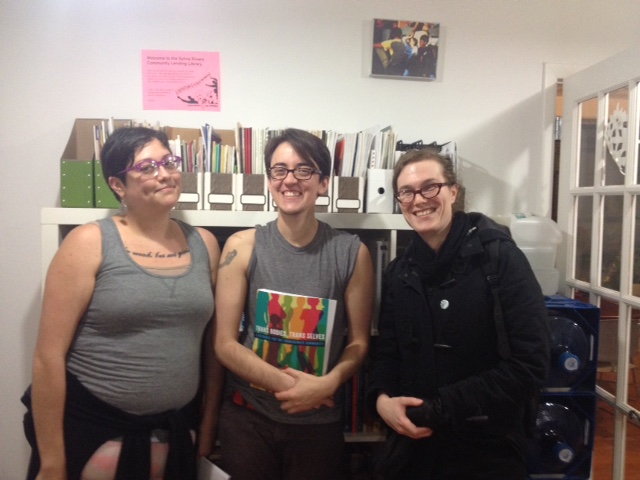 Upcoming events
SRLP+ALP+MRNY: Trans* Healthcare Now! campaign CELEBRATION will take place atMake the Road on Friday, January 30, 2015 at 6:00 pm – 9:00 pm
Membership Meeting: Strategizing Future Projects will take place at SRLP (Sylvia Rivera Law Project) on Tuesday, February 3, 2015 at 6:00 pm – 8:00 pm
SRLP's Mik Kinkead at Oberlin College will take place at on Friday, February 6, 2015 at 4:30 pm – 6:30 pm
Valentine's Day Card Writing will take place at SRLP (Sylvia Rivera Law Project) on Tuesday, February 10, 2015 at 6:00 pm – 8:00 pm
"Everyday Abolition" Series Launch Event will take place at SRLP (Sylvia Rivera Law Project) on Tuesday, February 17, 2015 at 6:00 pm – 8:00 pm
New Membership Orientation will take place at SRLP (Sylvia Rivera Law Project) on Tuesday, February 24, 2015 at 6:00 pm – 8:00 pm
Membership Meeting will take place at SRLP (Sylvia Rivera Law Project) on Tuesday, March 10, 2015 at 6:00 pm – 8:00 pm