The events of 2014 clarified, in ways that no words could, how vital the need is for sustained and collective radical organizing. Maybe we marched together at a protest demanding trans-inclusive and affordable healthcare, maybe we saw each other at Small Works for Big Change, or we stuffed envelopes together at the SRLP office, or we cheered together for the hard-fought victory of Medicaid coverage for gender-affirming healthcare. Wherever it was in a busy 2014, together with you, SRLP continues to meet the basic needs of our communities as low-income trans and gender nonconforming people, trans and gender nonconforming people of color, and our allies, and together we working to build our own political power to resist the systemic misuse of power. Your support is the key to SRLP's continued strength in these times.
Will you join me in keeping SRLP's work strong by making a gift today? You can make a donation at http://srlp.org/2014gift by sending a check to 147 West 24th Street, 5th Floor, NY NY 10011.
I hope you will join me to strengthen our work to build a stronger and more vibrant movement!
Donate
Thank you for celebrating and surviving, and donating time and money, and organizing with us in these perilous times.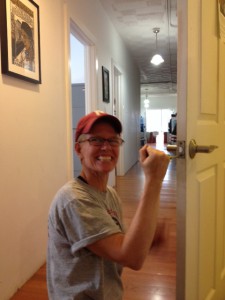 News and Accomplishments
WE WON! After 12 years of community organizing and impact litigation, SRLP and our comrades won trans healthcare coverage under New York State Medicaid. Because of our advocacy, New York State also ended the trans healthcare exclusion from private health insurance. Now all trans and gender nonconforming New Yorkers can get the basic healthcare we need! With greater access to healthcare, our community face fewer obstalces getting identity documents such as state ID, or getting jobs, housing, and basic social services.
VICTORY! After 12 years of advocacy, SRLP and other community-led organizations successfully pushed the New York City and New York State to remove the requirement of surgery for changing the gender marker on a birth certificate. Now trans and gender nonconforming people will have fewer obstacles to accessing healthcare, empoyment, housing, and other identity documents.
WE DID IT! SRLP worked in coalition with the New York Legal Assistance Group, the Peter Cicchino Youth Project, and the Immigrant Defense project to ensure that New York City's new Municipal ID program allows for applicants to self-attest their gender so that low income, homeless and undocumented people can obtain a gender-affirming ID without cumbersome medical documentation.
Following the leadership of SRLP's Prisoner Advisory Committee made up of trans people behind bars, we launched our End Solitary campaign to end punitive solitary confinement and work toward creating safer housing options for transgender and gender nonconforming people in prison. Our petition already has over 1,000 signatures!
Working to end violence, detention, and deportation of trans immigrants, SRLP successfully pushed for new legislation to limit enforcement of immigration detainers in New York City.
SRLP celebrated our trans healthcare campaign partners at the Attorneys and Advocates Awards, including our comrades from the Audre Lorde Project, GLOBE-The LGBTQ Justice Organization of Make the Road NY, GLAAD, the Legal Aid Society, and Willkie Farr & Gallagher. We also awarded the first-ever Matthew Carmody Fellowship to John Skwiersky for his outstanding pro bono legal service to SRLP clients for over 2 years.
SRLP welcomed Sasha Alexander, Director of Membership, Juana Peralta, Director of Outreach and Engagement, and Rage Kidvai, Paul Rapoport/Equal Justice Works Fellow to SRLP staff.
We worked to meet legal needs by providing free, respectful and affirming legal services, advice and referrals to over 380 community members and increased the legal advocacy skills and awareness of rights for over 150 community members through "Know Your Rights" trainings and skill shares.
SRLP increased awareness and support of transgender people by training over 1,750 students, lawyers, judges, and service providers. Highlights include training over 350 staff at New York City's Human Resources Administration, over 60 clerks in the New York City Civil Court, and over 200 NYC Department of Corrections staff for Riker's new Transgender Housing Unit.
Donate Now