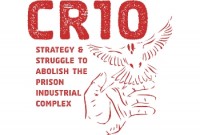 SRLP Collective and community members will be heading to the Critical Resistance 10 Conference in Oakland, CA from Sept 26th-28th.
Following the Transforming Justice Conference
in October 2007, SRLP and many other organizations have been working
together to build trans and queer visibility in the prison abolition
movement. As a direct result of that organizing and movement building,
CR10 is deeply reflective of struggles for gender self-determination.
Here's a list of some of the trans-specific programming planned for
CR10:
Trans Awareness and the Prison Abolition Movement
Gender Justice 101 for Abolitionists
Prisons as a Tool of Reproductive Oppression: Cross-Movemement Struggles for Gender Justice
Making Our Own Path: Strategy & Vision from Transforming Justice
Check out the full schedule for more info!
We need your help to pay for travel expenses! Donate Now!
---
In NYC?
Come to the Oct 7th Report Back Event! Save the date!