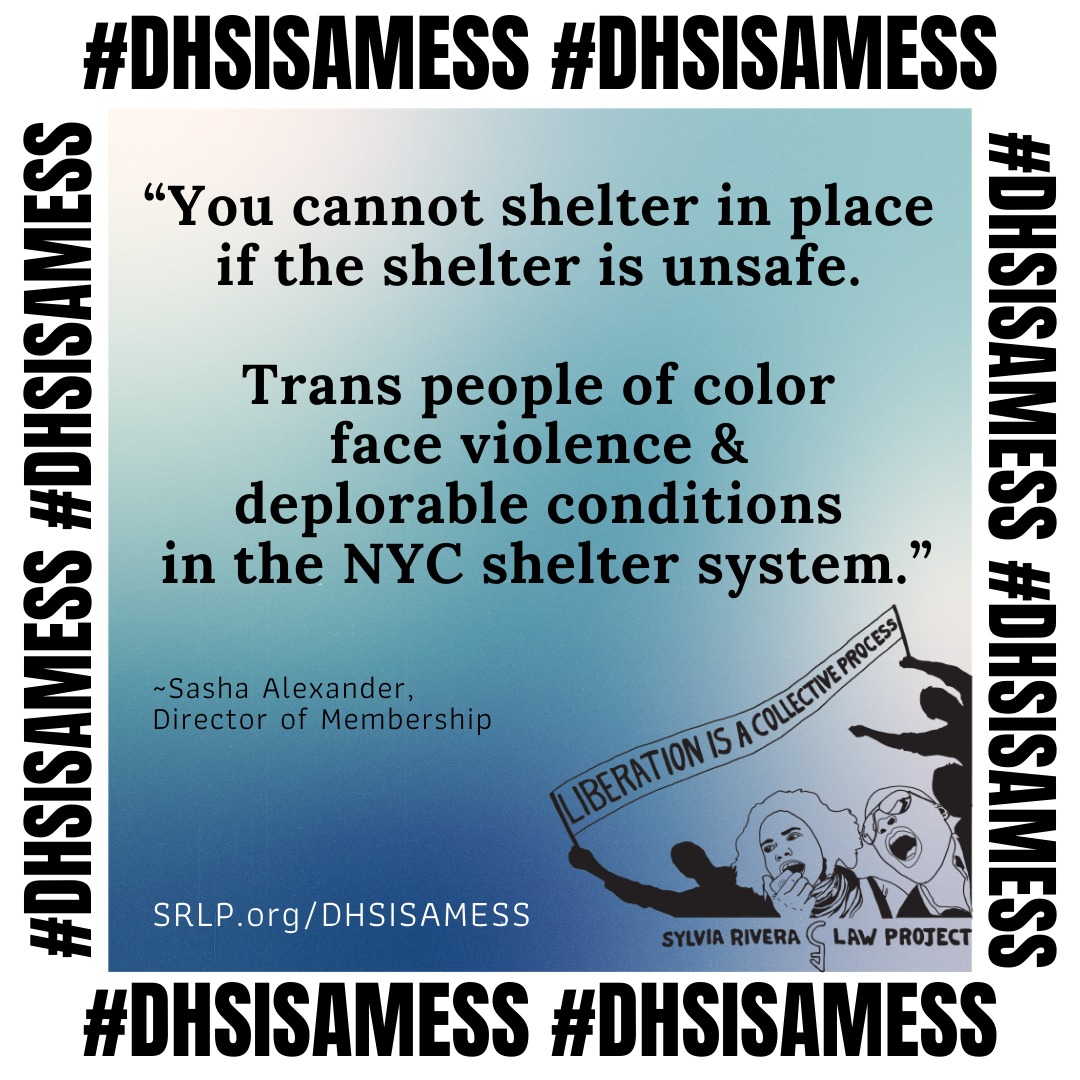 The Sylvia Rivera Law Project calls on our communities and allies in New York City to uplift our demands to the NYC Department of Homeless Services (DHS). After months of negotiations with DHS led by TGNCI people of color and low-income TGNCI people sharing their own conditions in shelter and demand change, we are launching a public campaign: #DHSIsAMess. The urgency is clear: DHS can not keep TGNCI people—or anyone—in their care safe and healthy, and the spread of COVID-19 has only exacerbated these conditions.
We encourage everyone to stand with New Yorkers living in the DHS shelter system and all others experiencing housing instability and homelessness by:
taking action

using the steps below
ACTION STEPS IN SOLIDARITY WITH THE SRLP SHELTER ORGANIZING TEAM
Are you a TGNCI community member living in shelter?
If you feel safe doing so, document your conditions as part of our #DHSIsAMess campaign by taking a photo or video of unsanitary or dangerous conditions in your shelter.

If you are on social media (and feel safe sharing from your personal account), you can post these images with hashtag #DHSIsAMess and tag our social media accounts: @srlp on Twitter, @sylviariveralawproject on Instagram, Sylvia Rivera Law Project (SRLP) on Facebook.

If you would like to share your photos anonymously, please send them to us by Facebook Messenger or Instagram or Twitter DMs, or email them to Director of Grassroots Fundraising & Communications Adelaide (adelaide@srlp.org)

If you would like to share your story as a blog post on our website, please reach out to Adelaide (adelaide@srlp.org) or via our social media accounts. We are able to share your stories with your name or anonymously.
Are you an individual ally?
Make a post on social media drawing attention to the conditions community members are facing. For example:

In solidarity with TGNCI New Yorkers in shelter & the @SRLP Shelter Organizing Team, I call on @NYCDHS to take immediate action in response to @SRLP's letter sent Friday, May 8. SRLP.org/DHSISAMESS #DHSIsAMess
Are you a supporting organization?
If you have volunteers, members, or staff who would be interested in supporting TGNCI communities living, group actions can be a huge support. You could create an action for your organization to take together as a community to push our demands:
Organize a group phone bank to make coordinated calls to our targets.

Make social media art or graphics to uplift our demands.
DOCUMENTING CONDITIONS
Since we invited community to document their conditions in NYC shelter, SRLP has received images that illuminate the connections between increasing street homelessness, inadequate care and unacceptable conditions in NYC Department of Homeless Services shelters and other city agencies' supportive housing units, and police violence against those without safe housing during the pandemic. The city's response to the pandemic has utterly failed to keep our neighbors safe or act for healthy communities. We will continue to post images we receive below. 
* * *
Have other ideas for how you can support SRLP's Shelter Organizing Team?
Email Director of Membership Sasha Alexander at sasha@srlp.org
Want to cover SRLP's #DHSIsAMess campaign in the media?
Email Director of Grassroots Fundraising & Communications Adelaide Matthew Dicken at adelaide@srlp.org