On August 7, 2014, Solitary Watch published two articles highlighting the abusive treatment faced by transgender women in New York State's men's prisons.  Two of the women profiled, Dee Dee and Carey, are members of the Sylvia Rivera Law Project (SRLP). SRLP works with transgender, gender nonconforming and intersex people who are low-income and/or people of color. SRLP's Prisoner Justice Project has been advocating for transgender people in New York's jails and prisons for over ten years.
While we were not surprised to read the horrors outlined in the Solitary Watch articles, we hope the publicity will bring attention to our work to abolish the prison system in the long-run and provide immediate safety measures to reduce the harm faced by those presently incarcerated. On August 11, 2014, SRLP, the Trans Women of Color Collective of Greater New York, the National Center for Transgender Equality and the Prisoners' Legal Services of New York sent a letter to the New York Department of Corrections and Community Supervision demanding swift action to end the routine practice of isolating incarcerated transgender people. Now we are calling on our community members to take action by reading and signing this petition published by SRLP, FIERCE and the Audre Lorde Project! 
Take Action Now
SRLP and Solitary Watch will continue to share stories of our incarcerated community members who are seeking external support. Please show your love and care by continuing to read the stories posted by Solitary Watch and SRLP. Our newest profile is that of Synthia China Blast.
Synthia's Story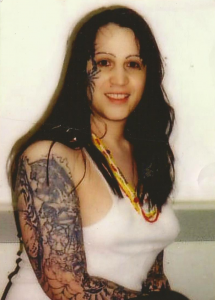 Synthia China Blast, an SRLP client and Prisoner Advisory Committee Member, has been incarcerated in New York for twenty-one years. Synthia identifies as a transgender Latina woman and proud native of the Bronx. Prior to incarceration, she experienced family rejection, lack of access to safe education, homelessness, police profiling and violence because she is transgender. The violent gender policing and various forms of trauma she experienced as a youth have only been reproduced and exacerbated while being held in various men's prisons operated by the Department of Corrections and Community Supervision (DOCCS) over the past seventeen years1.
Synthia has been placed in isolation for over a decade, for her own "protection." But this isolation has negatively affected her mental health. Isolation has NOT protected her from prison guards who have assaulted her and destroyed her personal property on numerous occasions. Isolation has prevented her from accessing programming, from interacting with other people, from healing. Synthia fears she will not mentally or physically survive the constant physical assaults, verbal harassment and isolation. Rather than be confined to the concrete walls of her cage-like cell, she wants to prepare for her parole board hearing in four years by obtaining her GED and to complete other programs that will help her to heal from the trauma of her childhood and her time in prison. However, being forced to remain in isolation means that she will not be allowed access to any of these opportunities. Demand that DOCCS take immediate measures to ensure a safer placement for Synthia and allow her access to educational and mental health programs that she needs!
Synthia is not alone. Because of stories like Synthia's, the Department of Justice, through the Prison Rape Elimination Act regulations, has specifically identified safer housing for transgender people as necessary to the prevention of sexual violence in correctional settings across the country. While Synthia and other transgender women live under the constant threat of violence and the torture of isolation in DOCCS custody, the agency proclaims to be "proud to be a leader in national efforts to improve correctional practices under the Prison Rape Elimination Act of 2003 (PREA)." Demand that DOCCS put their words into action by adopting new policies and practices in the spirit of PREA.

Read SRLP's Demands and Sign the Petition!
Take Action Now
More Information
Information about the End Solitary campaign video
1 Synthia was held at Rikers in NYC Department of Corrections custody for four years before being transferred to NYS DOCCS custody in 1997.