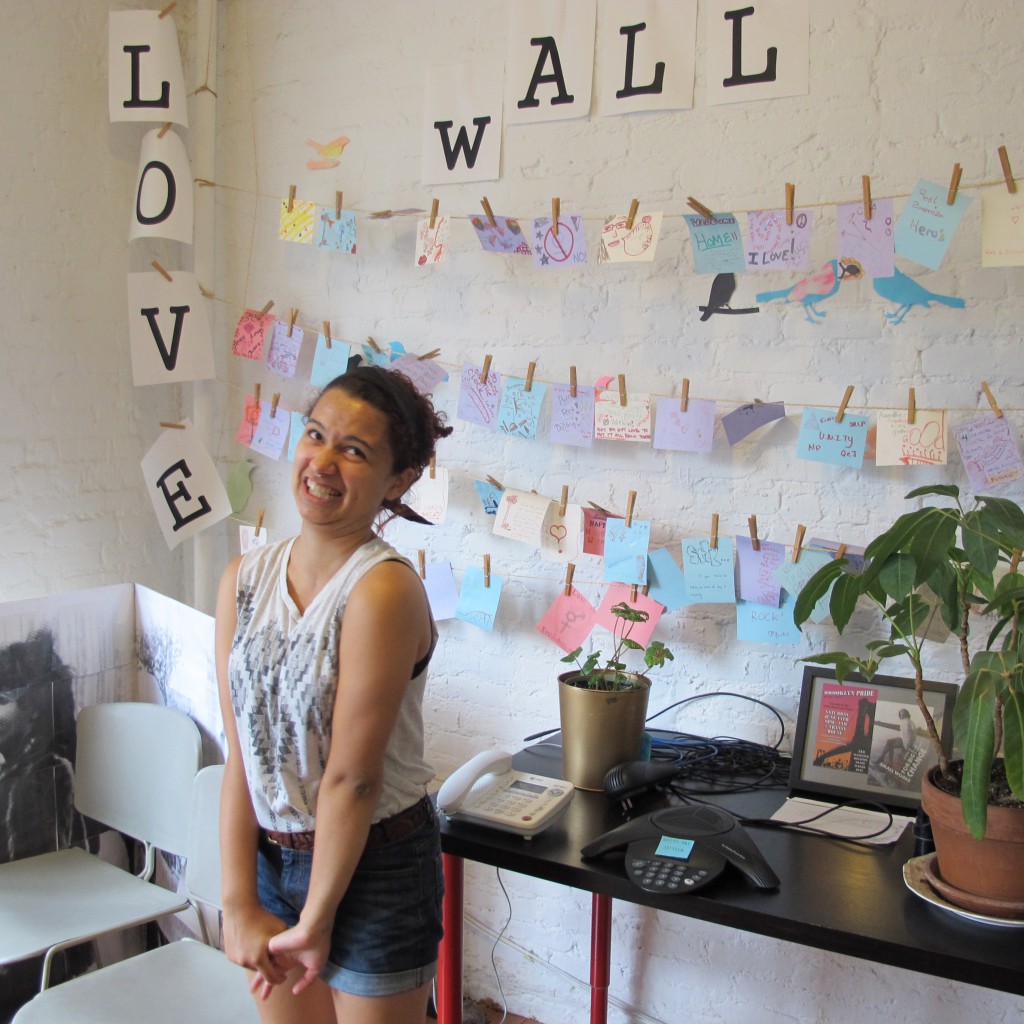 Name, Position and Team at SRLP: Serena, Movement Building Team intern.
Pronouns: she/her or they/them
What do you do to relax / have fun? I get distracted soo easily and (when I have time) it's really nice to let myself switch gears whenever I feel like it, and get pulled into whatever things I want to reading/learn about/write/watch/etc at that moment. I also love spending time with given and chosen family and friends, and looking at pictures/videos of weird/cute animals.
What is your favorite meal to cook? My grandma makes these fantastic baked spinach balls, but I haven't actually tried making them gluten free yet. Everything ginger or lemony!
Favorite animals? I'm trying really hard to limit myself here: goats/dogs/cats/ferrets…sloths?
If you have pets, do they do anything funny? When my dog Daffodil was younger, she used to do a running jump all the way over the couch.
Quirky facts about you? I like sticky notes. A lot. I have like 5 or 6 colors and my walls are usually covered in them.
What made you most excited about coming to SRLP? Radical queer and trans organizing that prioritizes the voices and experiences of people most affected by the intersecting forces of racism/classism/capitalism/mass incarceration/queerphobia/transphobia/misogynys/xenophobia/ fatphobia/etc. Similarly, feminist spaces that foster intersectional understandings of oppression and center queer and trans struggles and analyses instead of ignoring them. I have particularly enjoyed working with the Prisoner Advisory Committee at SRLP on In Solidarity (SRLP's annual newsletter) and the PAC blog. I've been able to use my privileges to listen to and help provide a platform for the voices of incarcerated low income and people of color who are trans, gender non-conforming, or intersex, voices that are so often silenced, ignored, and twisted. I also love seeing the drawings, poems, and stories from PAC members!
What does one aspect of your utopia look like? Parents would be aware and attentive to how both they and larger institutions influence or coerce their children's experiences of gender, and would actively work to foster environments for self-determination. Also, free dark chocolate.
What is a way(s) that you enjoy challenging gender stereotypes? I love encouraging children to think about gender and challenge related perceptions/biases/stereotypes that they have internalized. It's great to be able to suggest an idea (like including a gender neutral bathroom in an art project) and watch them run with it. I also like encouraging myself to take up more space in public (…haven't gotten very far with this yet), and being femme/hairy/having piercings.