Meet the Honorees of SRLP's 10th Anniversary Celebration!

Janet Mock
Janet is a writer and advocate, who publicly shared her teenage transition story in Marie Claire and a video testimony for the It Gets Better project in 2011. A native of Honolulu, Hawaii, Janet speaks out about the portrayal, struggles and triumphs of transgender women, founded and runs the digital campaign #GirlsLikeUs to empower trans women, and wrote about her quest to live visibly in Fish Food: A Memoir, which will be published by Atria Books in October 2013. She also tells stories from her life on her blog and hosts a relationships podcast called The Missing Piece with her boyfriend Aaron Tredwell. To learn more about Janet Mock, please visit – http://janetmock.com/janet-mock-bio/
Lorena Borjas
Lorena is a transgender Latina activist and a grassroots organizer. Her principal goal is to bring awareness to the vast array of issues that impact marginalized and oppressed communities. She advocates for human rights and social justice. For the past two decades, she has empowered community members to become agents of change. She put together the Lorena Borjas Community Fund (LBCF) to bring awareness to the vast array of issues that impact the marginalized LGBT community, specifically focusing on low-income, immigrant communities. LBCF Fund is a volunteer-run project created to institutionalize the support that Lorena has provided for years. The LBCF Fund supports low-income gay, bisexual, lesbian, transgender, queer, questioning, intersex, and gender non-conforming immigrants avoid the collateral consequences associated with criminal convictions, jail time and court appearances.
Stefani Rivera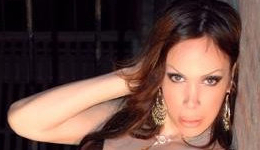 Co-director of the Audre Lorde Project. For seven years Kris was part of Youth United for Community Action (YUCA), a community organizing organization in California, led by young people of color organizing for justice. He served as YUCA's Executive Director, managing two offices and a budget of over half a million. Kris has been active in various social justice organizing campaigns for nearly 20 years. Kris has been the Co-Executive Director for the Audre Lorde Project since 2003. The Audre Lorde Project is a Lesbian, Gay, Bisexual, Two Spirit, Trans and Gender Non Conforming People of Color center for community organizing, focusing on the New York City area. Through mobilization, education and capacity-building, we work for community wellness and progressive social and economic justice. Committed to struggling across differences, we seek to responsibly reflect, represent and serve our various communities.
Co-director of the Audre Lorde Project (a community organizing center for lesbian, gay, bisexual, two-spirit, trans and gender non-conforming people of color) and a self-identified "black queer fat femme activist." She says, "I believe at the heart of lasting movement-building is the work of making spaces which help us sustain hope and the possibility for survival, as well as transformation."
More on SRLP 10
For the past ten years, the Sylvia Rivera Law Project has been an active part of a vibrant movement aimed at transforming marginalizing cultures and practices, dismantling oppressive institutions and systems, and building power for gender self-determination and community liberation. On November 8th, 2012, we will reflect on and celebrate this history, as well as honor community advocates and artists whose efforts increase the political leadership of low-income and people of color who are trans, gender nonconforming or intersex. Visit the event page to learn more!