On April 24th, a week before May Day, SRLP's Movement Building Team (MBT) core members engaged in a dialogue around the intersections of immigrant justice and trans justice. We delved into issues around economic justice and access to benefits, the trans and gender non-conforming (TGNC) community's lack of access to employment when fighting for workers' rights, and the role of black liberation in migrant justice, among other things. Sei Young Pyo, SRLP's Director of Immigrant Justice Project, helped frame the conversation around May Day, TGNC immigrants' rights, and, especially, our rights at a protest. I shared videos from organizations, like Southerners on New Ground (SONG), "Queering Migration", and clips from actions around detention by organizations like Trans Queer Pueblo. On the last Tuesday of the month, our Director of Outreach Kimberly Mckenzie facilitated activities and public education around SRLP's Prison Advisory Committee and the prison industrial complex, and we made connections between detention and prison.
The day before May Day, we organized a sign-making event for folks who were not able to or did not want to march or rally but wanted to support thinking about messages we wanted to send as TGNC folks on May Day. MBT Core member Gisselyano facilitated a small sign-making event, where another SRLP core member, Stephanie, created a giant sign that read "Trans Rights are Equal Rights."
Many members were excited to mobilize for May Day, and for most of our members, it was their first time. The morning of May Day was full of energy and intentional actions against targets related to racial and economic justice – Wall Street and the banks. Our plan was to go to Union Square in the afternoon for the large march where the People's Power Assembly and other groups were organizing and where the largest May Day rally and march has historically been in NYC. On our way to Union Square, we stopped by Washington Square Park where Freedom Cities had held a rally and there was setup occurring for another rally happening that evening. In the air, folks were buzzing about who was at which rally and why, and it seemed that Washington Square was a bit more mainstream (city politicians involved, a beautiful, expensive stage and sound system, and virtually no cops) versus where we were (with the people's sound system and stage which was mounted on a pickup truck with banners and flags and signs, also noticeably a ton of cops were surrounding us.)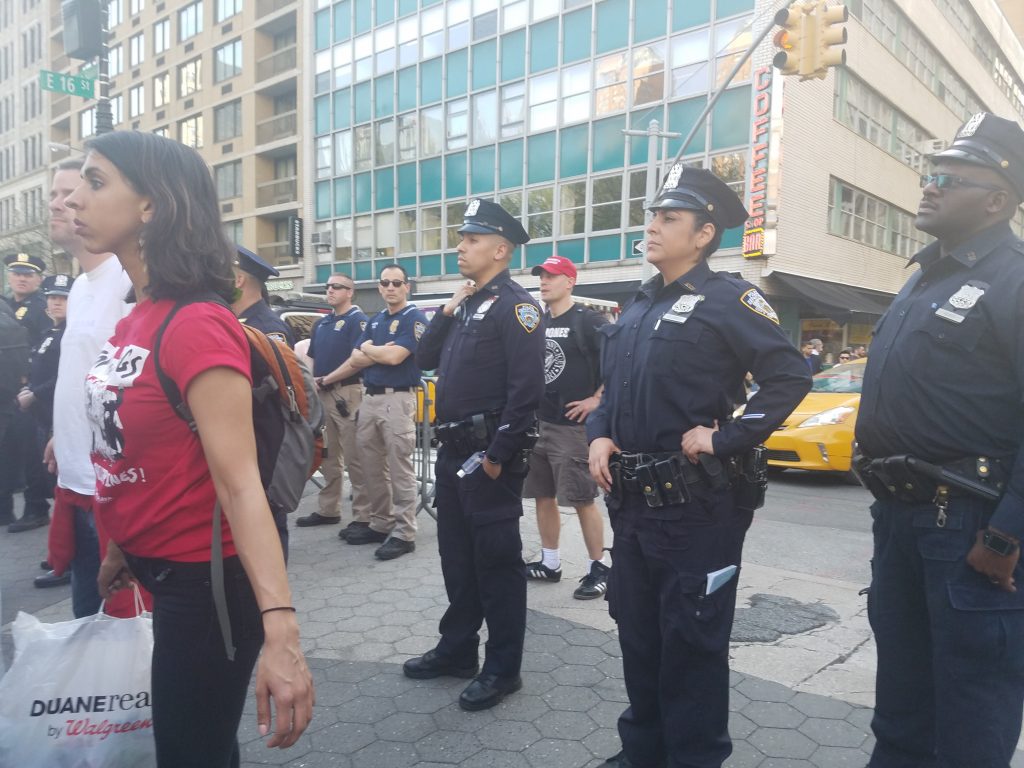 This was supposed to be a low-risk action, meaning that there was no risk of arrest, but as low-income TGNC folks and allies, we had checked in about our plan for marching. In hand, we had SRLP's Know Your Rights for TGNC Immigrants brochure and handed out over 30 copies to folks at the rally, many of whom knew about SRLP and some who were just learning about us. I noticed a few "make America great again" hats on individuals who seemed to be trying to rouse the crowd and agitate folks, which the NYPD of course didn't seem to care about and more concerning seemed to be chatting with and smiling. We rallied alongside families, LGBT folks, young people, elders, disabled folks, folks of color, and workers. As we marched on, the number of cops grew and, at one moment, the police escalated, announcing over a loudspeaker that anyone marching and crossing the street (which we had done several times already with tons of police, legal observers, and community safety volunteers) could be arrested.  We decided to step out of the march, check in to make sure we were all safe, get hydrated, and debrief what had happened.
We laid in the grass at Washington Square Park, listening to the second evening rally's speakers, including some women from Make the Road who spoke out as TGNC immigrants. We talked about what it was like for those whose first rally it was, our highlights, fears, and hopes for what is to come as we continue to mobilize.