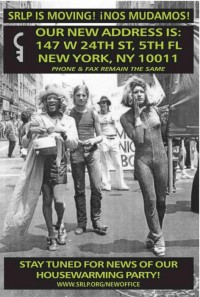 SRLP is moving to a new office on Saturday, April 10, 2010! Please make a note of our new address:
Sylvia Rivera Law Project
147 W 24th St, 5th Floor
New York, NY 10011
phone and fax numbers will stay the same


You can help! Join SRLP for these work-parties and enjoy great company and snacks while we get the job done… 
 MAILING PARTY THURSDAY 3/25/10  6-9pm – help us send postcards announcing our new address to community members far and wide!
 PACKING PARTY TUESDAY 4/06/10 at 6-9pm – help us put everything in boxes that we possibly can, and throw away all the things we don't need!
UNPACKING PARTY SATURDAY 4/10/10 at 2pm (until we're finished)! Movers come in the morning, and by afternoon we will need help unloading, assembling, and arranging… setting up our new home!
and coming soon… Painting Party! We will need a few people to
help us paint our old office, and possibly our new office as well!
We're also looking for people to join our decorating committee or help with the housewarming party. Questions? Write to info@srlp.org or call Elana at 212-337-8550×304

Thanks for your patience with our limited work-capacity in the days before and after our move while we take apart/set up phones, computers, files, etc.