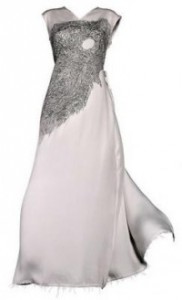 Calling all fashionistas and fans of Antony's music — an exciting new way to support Sylvia Rivera Law and spread the word about our work!
SRLP has received a fabulous valentine from Antony and the Johnsons' singer Antony Hegarty and YOOX.com, joining together for an innovative collaboration that will benefit SRLP!
Antony has designed a gorgeous dress, handmade from white silk jersey and produced (in coordination with the New Academy of Fine Arts – Milan) in a single model signed by Antony. The dress will be listed on EBay.com starting on February 14th.