This is one of SRLP's favorite times of year. Our office is buzzing with volunteers and artists, and the space is filling up with art for Small Works for Big Change!
Have you registered to attend yet? Register now at http://srlp.org/bigchange to attend the event on Saturday, March 8.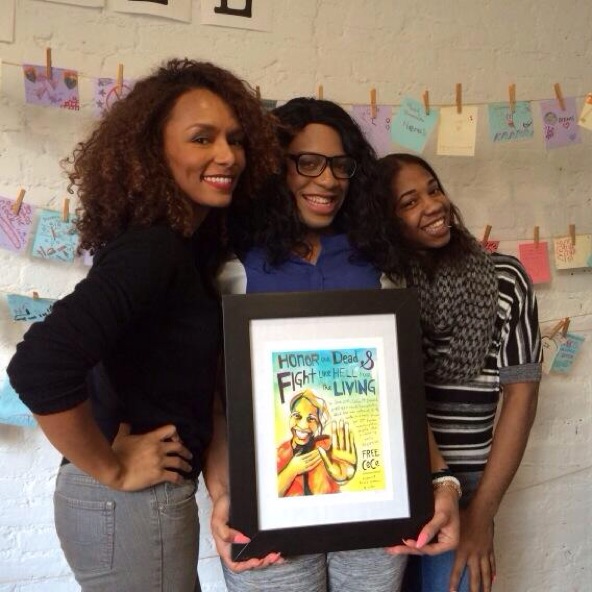 Last week, Janet Mock, Cece McDonald, and Rai'vyn Cross stopped by the office and got a sneak peak at Micah Bazant's piece, inspired by Cece, which you can bid on at the benefit!
Check out more of this year's art on the Small Works for Big Change online catalogue, including works by Bishakh Som, Jonah Groeneboer, Laimah Osman, Mari Juliano, R.H. Quaytman, Vanessa Huang, Xylor Jane, and many more. Go to http://srlp.org/bigchange to see them all.
Register today and encourage your friends to do the same!
Can't join us in person? You can still take part in Small Works for Big Change by making a donation through the event registration page. For information about proxy bidding, contact avi@srlp.org.
Small Works for Big Change is an art benefit for the Sylvia Rivera Law Project. This event provides an important space for trans and gender nonconforming artists, particularly trans and gender-nonconforming low-income artists and artists of color, to showcase their work and increase their voice and visibility. Small Works for Big Change supports SRLP's work to challenge discrimination and violence faced by transgender and gender nonconforming people who are low-income and people of color through direct services and community organizing.
Small Works for Big Change will take place on Saturday March 8 from 5-9 PM at Jack Studios, 601 W. 29th St, NYC with DJ Precolumbian and entertainment by the Sisters of Perpetual Indulgence.
For more information and to register, visit http://srlp.org/bigchange
Thank you for your support. We're so excited to see you at the event!
Avi & the Small Works for Big Change Host Committee:
Allison Palmer, Alysan McCann, Chris Carlon, Dani Heffernan, Jacob Robichaux, Jeanne Vaccaro, Jeannine Tang, Jonah Groeneboer, Joy Tomchin, LJ Roberts, Luce Capco Lincoln, Martyn Thompson, Mik Kinkead, Nelson Santos, Rage Kidvai, Reina Gossett, & Shaylanna Luvme
 Special thanks to our generous sponsors!