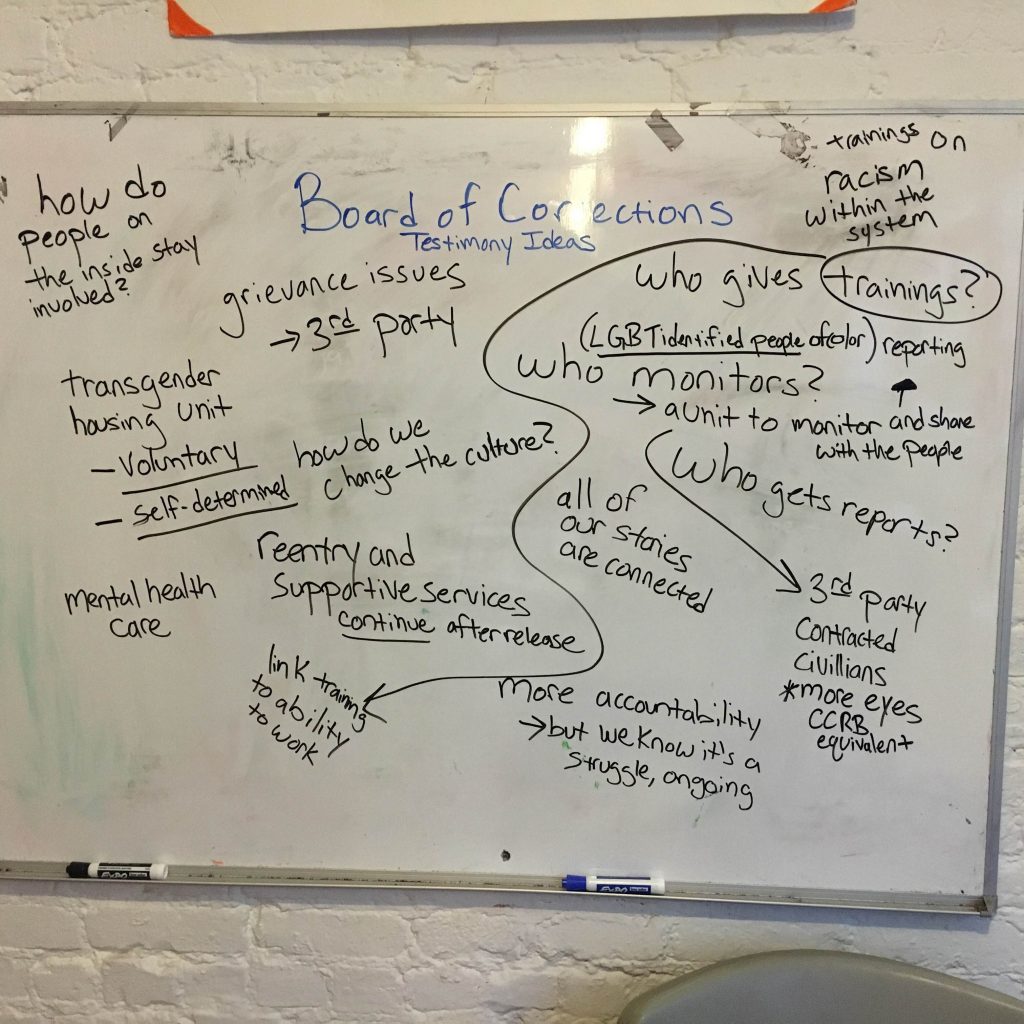 Thank you to those who came out to the membership meeting on Tuesday at the Sylvia Rivera Law Project to prepare for Board of Correction (BOC) hearing! We were so grateful to be able to listen to everyone's innovative suggestions for making NYC jails safer for trans, gender non-conforming and intersex (TGNCI) folks. If you weren't able to make it to the meeting, but still want to attend the rally and/or the hearing on Tuesday, July 26th, take a look at the information below about the proposed rules, and how to prepare for public testimony. If you would like to give testimony, please also bring the signed testimony consent form with you on the day of the hearing.
Just a reminder, the BOC will hold their public hearing on new proposed rules to prevent sexual violence in New York City jails on Tuesday, July 26th at 1pm at 125 Worth Street in the second floor auditorium. We will be part of a rally before the hearing, calling on the BOC to raise the standards in NYC jails. If you want to join us for the rally and/or at the hearing, please meet us on Tuesday at 11am at the SRLP office or at 12pm at 125 Worth Street.
---
PREA and the BOC: Sexual Violence in New York City Jails
What is PREA?
In response to pressure from grassroots organizations and community leaders, Congress passed the Prison Rape Elimination Act (PREA) in 2003 to address the problem of sexual violence behind bars. In 2012, the Department of Justice issued the PREA Standards, a set of rules for prisons, jails, and immigration detention centers aimed at documenting and preventing sexual violence.
What is the BOC, and what do they have to do with PREA?
The Board of Correction (BOC) oversees and regulates all NYC jails. The board is made up of nine people appointed by the Mayor, City Council, and judges on the state Supreme Court. The board sets rules for NYC jails and is supposed to make sure that all city correctional facilities follow these rules.  Right now, the BOC wants to pass new regulations to make sure that the NYC jails meet the PREA Standards. They have released their proposed rules, which are based off of the federal PREA Standards and do not take community feedback and concerns into account. The BOC is holding a public hearing on these proposed rules Tuesday July 26 at 1pm.
What rules is the BOC proposing? How could these rules be better?
The BOC is proposing a long list of rules to prevent sexual abuse and sexual harassment in NYC jails. The rules cover a wide range of topics, including staff hiring and supervision, investigations and medical examinations, and disciplinary sanctions.  Here are some examples of proposed rules and ways that they could be improved:
Searches: No "cross-gender" searches except in emergencies / by medical personnel. No "opposite gender" staff can watch inmates shower, use the bathroom, or change clothes. No searches to determine a person's genital status. Train staff on how to search TGNC inmates "respectfully", how to treat trans inmates according to their gender identity.

SUGGESTION: Document all "cross-gender" searches. All documentation of searches should include the reason why the search was necessary.

Staff training: Employees, volunteers, and contractors should be trained on how to comply with rules around sexual abuse, including how to communicate with LGBTQ inmates.

SUGGESTION: Community and member-based organizations should be able to review these trainings and provide them to ensure competency

Housing trans and intersex inmates: Determine housing, bed, work, and program assignments on a case-by-base basis for trans and intersex people, taking into consideration the person's identity and preference. Trans and intersex inmates can shower on their own / separate from other people.
*Note: the BOC is considering closing the Trans Housing Unit*
SUGGESTION: A person should be housed according to their gender identity unless DOC has a legitimate reason. Keep a voluntary trans housing unit.
Retaliation: DOC cannot retaliate against people who report sexual abuse or harassment. Should move survivor to different housing, separate from abusers, provide emotional support.
Discipline: Discipline staff and inmates who abuse or harass inmates, including firing staff when appropriate. Prohibit all sex between inmates, discipline inmates for having sex, but consensual sex cannot be called abuse.

SUGGESTION: No punishing inmates for consensual sex. No punishing inmates for reporting sexual abuse, even if it is not proved later on.
Preparing to Testify
The public hearing will be held on Tuesday, July 26th at 1pm at 125 Worth Street, Second Floor Auditorium, in Manhattan. Before the hearing, SRLP and other organizations are holding a rally to pressure the BOC to raise the standards around sexual violence in NYC jails. After the rally, we will enter the building together. We will have to pass through a metal detector. If you have concerns about security or anything someone from SRLP will stay with you to make sure you get through safely. When we get to the auditorium, anyone who wants to speak will sign up. We will then sit all together, towards the back of the auditorium, listen to the speakers, and support our folks who are testifying. When called, anyone giving testimony will have up to five minutes to say whatever they want to the BOC.
Your testimony:
Say your name, and any other identifying information you'd like to give about yourself.
Give a one sentence summary of your position. What is the most important thing that the rule-makers need to be made aware of?
Tell your story. When you or someone you know was incarcerated, how did the rules against sexual violence affect you/them? What changes could have made those rules more effective? Be specific and stick to the facts when you can.
Offer solutions and ask that the board take action. For example, you could ask them to change one rule that is particularly important to you, or you could ask for broader changes to the whole set of rules.
Tips:
Be brief. They are pretty strict about the 5 minute time limit. You may want to practice your testimony beforehand and time yourself.
It's OK to have emotions when sharing your story. If you want to talk to someone afterwards please let us know. We can sit with you for a while.
Try to make eye-contact when you're speaking. This can make your testimony more powerful.
On the day of:
Meet up at SRLP at 11AM! We can go to the rally together
If you can't make it to SRLP meet us at 125 Worth Street in Manhattan for the rally at noon
Be prepared to be there for several hours.
Be prepared to go through a metal detector.
SRLP will provide metro cards
THANK YOU FOR CONTRIBUTING YOUR STORY!!!