Every year in New York City, both the Mayor and City Council go through a budgeting process. During this process, city agencies and the public testify on various issues, such as policing, education, healthcare, housing, and immigration. By providing testimony about our experiences, we can use our stories to impact policy, funding, and services available to trans and gender non-conforming people in NYC. This year, SRLP's new Shelter Organizing Team was on site to provide crucial testimony on behalf of trans and gender non-conforming (TGNC) New Yorkers – read excerpts from our testimonies below.
On Tuesday March 27th, the New York City Council held a NYC Council Budget and Oversight Hearing on the Fiscal Year 2019 Preliminary Budgets for the Human Resources Administration (HRA), Department of Social Services (DSS), and Department of Homeless Services (DHS). These agencies are responsible for everything from public benefits like cash and food assistance to rental assistance programs and the infamous NYC shelter system. These are services that deeply impact the lives of low-income TGNC New Yorkers. SRLP staff and members attended the hearing to testify about the need for stronger housing and employment supports and services for trans and gender non-conforming New Yorkers.
Following the policy brief, "Solutions Out of Struggle and Survival: A Transgender and Gender Non-Conforming Policy Brief for NY," released this fall with other community-based organizations, SRLP's new Shelter Organizing Team worked closely with Andrea Bowen, consultant for the project, to prepare our call to action and testimonies and support mobilizing our community to be present during NYC Budget Hearings.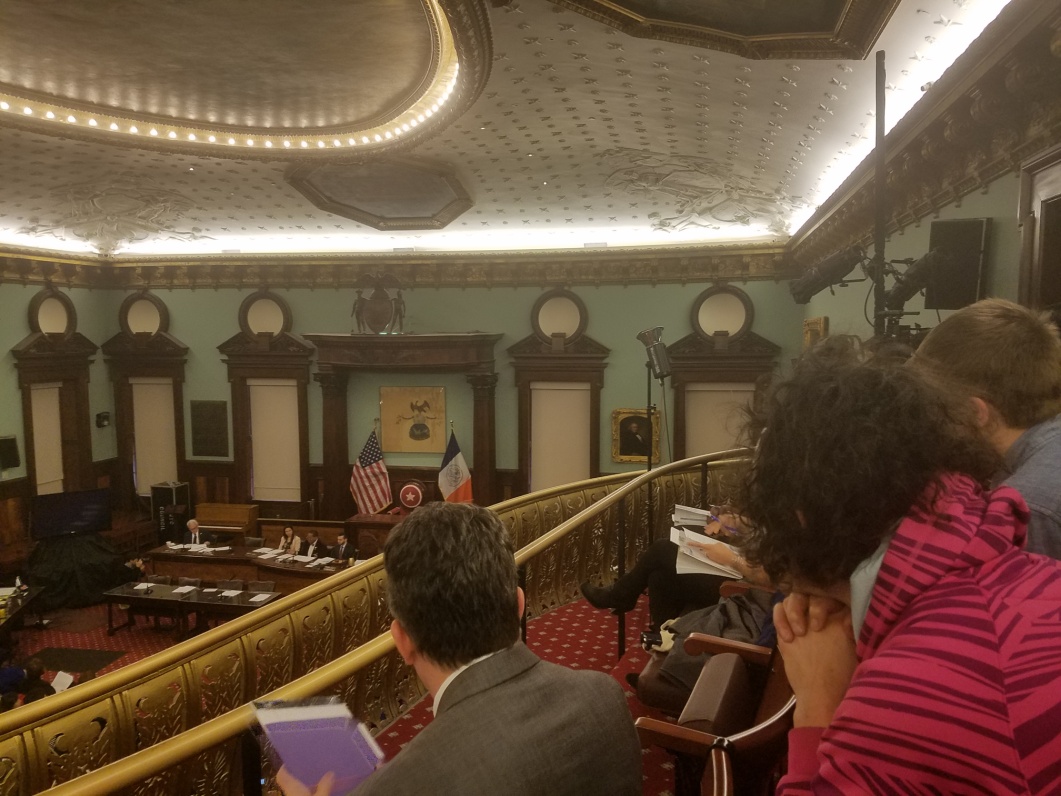 Outside of City Hall (pictured below), we held signs that said "I Support TGNC New Yorkers" and "Trans People Need Employment and Housing Support Now" to let Council Member Stephen Levin (the Chair of the committee) and the rest of the committee know just how important our community solutions are to invest in.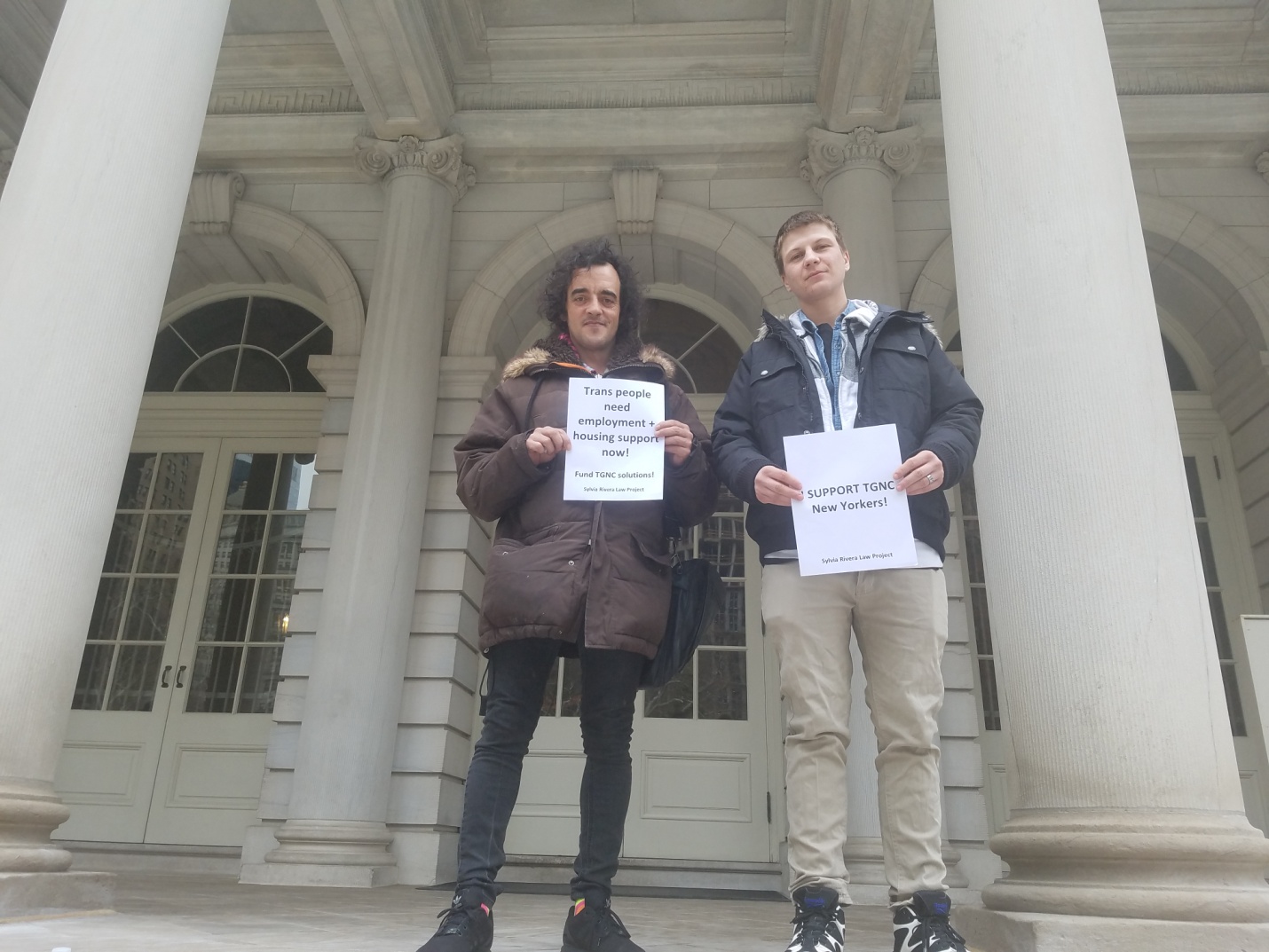 "I am a transgender woman struggling to find housing and employment in NYC. I am a member and leader at the Sylvia Rivera Law Project in Manhattan, where I organize around the rights of trans people. I have lived in NYC for 2 years and been homeless during this entire period. As a low-income person, it's been hard to pay my bills. It's had an impact on my mental health, and I am here in support of these trans-specific programs that will help me and the community. The shelter system is dangerous for transgender people due to violence and discrimination and that's why we need to be prioritized for housing.

Our community needs stronger employment supports, it will benefit everyone. I have applied for many jobs and have been turned away and never even got a phone call. The Back to Work Program I went through was horrible, due to discrimination over the bathroom. They tried to deny me from using the women's rest room.  I greatly appreciate you taking the time to listen to me and other members and leaders in our community. "
– Stephanie Phillips, SRLP Member
"I'm a 29 year old trans man that was raised in New York City. I am a member at the Sylvia Rivera Law Project in Manhattan. We organize for the rights of trans people. I struggled with being homeless for many years because I was pushed out and didn't have family support. I currently reside in a DHS shelter, but in all of the ones I've been in I've experienced safety, privacy, and discrimination issues, especially involving the bedrooms and bathrooms. If I was able to access the rental voucher, I would be able to get myself out of the shelter system, but instead I have experienced harassment and violence. I don't get support from my case managers or shelter directors and even had to leave the shelter for my own safety and mental health. Employment in general has been a continuous issue for me, especially as I transition. One issue is that I don't have my name changed as of yet. Therefore, my physical appearance does not match my identification. As a result, it has raised anxiety and frustration when seeking employment or any kind of services. If there was a program that specifically provided the services that I needed, it would make a huge impact, not only on me but others like me and more to come. We just want what everyone else does: housing, employment, and to live a normal and stress-free life as much as possible. I greatly appreciate you taking the time listening to me and other members and leaders in our community."
– Jackson Callen, SRLP Member