Authored by Chase Strangio and Rage M. Kidvai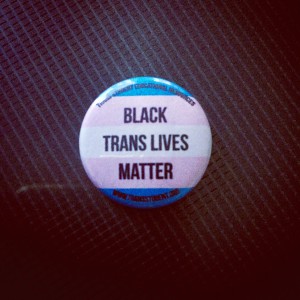 It has been a heartbreaking year as we have learned of the deaths of too many trans women in our community. In this week alone, we learned of three more murders – all of Black trans women. As we grieve these horrible losses, we are at the same time driven to action to support Black trans women in life.
Far too many trans women – particularly trans women of color – are locked up in our City jails held in on bail and facing the horrible violence of our carceral system. Sometimes the difference between life and death for trans people in the criminal legal system is the financial support that can allow someone to be bailed out and fight their case from outside of detention.
Right now the Sylvia Rivera Law Project (SRLP) and the Lorena Borjas Community Fund (LBCF), urgently need your support collecting $10,000 bail for C.A., a Black transwoman in jail in NYC. We are hoping to raise this money by Monday August 17th, 2015. All money collected through this fundraiser will not only go towards bail for this particular case, but will be reinvested in the fund so it can be used for future cases.
LBCF is a small volunteer-run group that provides bail and other court assistance to members of the transgender community in New York City. The fund exists precisely to support transgender women of color, like C.A. who because of systemic discrimination and profiling, are less likely to be able to pay bail and face particularly harsh abuses while incarcerated. Click here to read more about why bail support is critically important for LGBT people.
C.A., a Black trans woman who was born and raised in Brooklyn and the Bronx, is her family's primary support system. After her mother became ill four years ago, C.A. asked her to move in so that she could care for her health.
Upon meeting C.A. in a New York City jail, it became immediately apparent how loving and strong she is; hugging me tight as soon as I entered the visitation room. "Under different circumstances," she said, "I would probably be in better spirits."
C.A. incarceration has clearly had a toll on her spirit. Since her arrest, she has faced terrible abuses — an unfortunately all-too-common reality for transgender women in jails and prisons. After reporting one sexual assault, C.A. was moved to a unit where she was once again assaulted. Later, she had fecal matter thrown at her, and was eventually moved again. Outside of jail, her mother was hospitalized for kidney failure and heart trouble. When they are able to speak, her mother tells C.A. she really needs her daughter, and it is obvious that being there for her mother is C.A.'s number one priority even from the inside.
The reality is that transgender people of color – and Black trans women in particular – face insurmountable barriers to safety and security in education, employment and everyday survival. With many leaving school due to harassment and violence, four times the unemployment rate of the general population and devastatingly high victimization, including murder, trans people of color in our communities need community support.
The ONLY thing stopping C.A. from being home now, taking care of her mother and building network of support, is the bail that she cannot pay.
"You have to stay focused on the next steps when you're in here," C.A. shared. "I have been through a lot of difficult things, but this is definitely the worst. The claustrophobia… that you can't make your own decisions or stop your mind from running."
Once she is out, C.A. imagines running support groups for trans women at organizations like the Sylvia Rivera Law Project, and fundraising for programs like the Lorena Borjas Community Fund so that trans people aren't further punished for being poor and Black.
We are locking up our leaders. Our systems of incarceration and control that have long been used to repress, criminalize and kill Black people in this country are working as they have always been designed to work. Breaking people down, dividing people, and using the absence of resources to keep people locked away from their families and communities.
As our systems of resistance are growing, we must not forget those behind bars. We have a role to play in getting them out and building systems of power that include the voices and visions of those who have been the most targeted by our criminal legal structures.
Support C.A. and other trans people who face life-threatening violence when held in jail. C.A. needs to go home and we should help her. Donate NOW to the fundraiser for C.A.'s bail here.