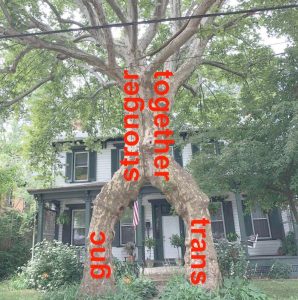 Miss Major Griffin-Gracy (@immissmajor): Heard about the latest attack on our community. Remember: we're stronger together. Don't run and hide. We have to be more visible and unified than ever!
---
For more information please attend our Know Your Rights and Organizing Session on Friday, November 2nd from 5:30-7:30pm at SRLP.
What happened?
On Sunday, the New York Times published an article about a leaked memo from the Federal Health and Human Services Department that would limit "sex" to male and female and state that it is a trait determined at birth  by genital state and cannot be changed.
This is in line with the Trump administration in general – they have sought to ban us from military service and rescinded guidance to public schools recommending that we be allowed to use the bathroom of our choice. These are Trump fear tactics to make us scared to live our lives.
What does this mean?
According to what was leaked – it would change the definitions of gender and sex only for the Federal Health and Human Services Department. So it doesn't touch other legal areas at this time.
We still don't know what this means. It could mean that non-discrimination laws regarding healthcare may be affected, it might mean that federal aid for Medicaid agencies that provide trans affirming care will be affected. It might never become law. Right now we don't know.
What should I tell community?
All of your current rights to healthcare still exist. You have the right to access your necessary health care. If your healthcare provider questions this – come to SRLP and we can help! Call first please to make an appointment: 212-337-8550 x308
Remember that this is only a memo about the Federal Health and Human Services – it does not impact your right to change your name, be treated with respect, have the right name and pronoun used for you, to update your birth certificate, state ID, social security or benefits card, immigration rights, and more. All of these still exist. Use them.
If people in positions of power – the clerk at the DMV, a police officer, your Benefits worker, your health care provider – tell you they think your case or rights will be affected because of this memo, calmly and firmly tell them "NO, that's not true." It isn't a law and they have no authority to act against current laws. Come to SRLP and we can help! Call first please to make an appointment: 212-337-8550 x308
If you have questions or concerns about how your rights will be affected if you travel, or if you have concerns about accessing healthcare in another state, please call to make an appointment: 212-337-8550 x308
This impacts gender non-conforming and intersex people as well, and it is a part of this administration's attack on people of color, all women, and immigrants. Help people make these intersections and connections in our larger work for racial, gender, and economic justice.
Will this affect other areas of my life?
Right now, no. But it is true that even the rumors of such a policy are enough to make bigoted people act out on their transphobia. This is certainly a time to make sure you and your loved ones are safe.
How are we Pushing Back?
For SRLP, our legal team is monitoring these changes and preparing for multiple lines of strategy  to challenge anything that happens. Lambda Legal, the National Center for Transgender Equality (NCTE) and many other national orgs are releasing statements and sharing action steps. All of us are getting prepared to fight against Medicaid and everything under the Affordable Care Act being regulated by an incorrect and harmful idea of gender and sex.
Please join us in this effort by taking care of yourself – existing, resisting, staying strong.
Remember that this attack on us may cause many people to feel alone, depressed, despondent. Reach out and tell community members that they are loved.
Please, also help us by telling everyone two truths: 1) this isn't yet a law and we will fight it and 2) you can't erase TGNCI people. We exist as we always have.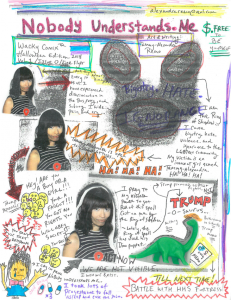 This image was created by Tammy Alexandra Remo, a graphic design artist and organizer who is a member and leader at SRLP and a part of our Movement Building Team. Tammy created this graphic as part of their own healing, to express what it is like facing transphobia every day on the train, buses, and streets. And to educate folks about what our communities are facing after the recent Trump Memo news.
Tammy uses the pronouns she/they/he and asks that you mix it up.