Please join SRLP in welcoming Emma Caterine, who will be working with Alisha Williams on the Prisoner Justice Project this fall!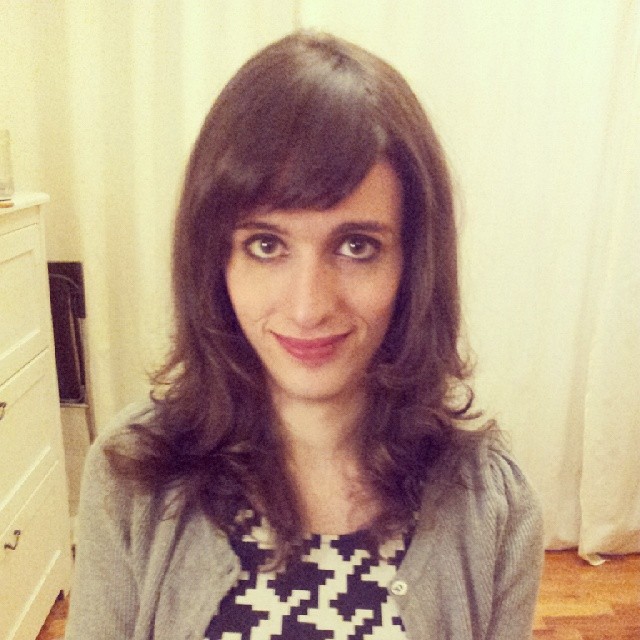 Name, Pronouns, Position and Team at SRLP
Emma Caterine, she/her/hers, Consultant, Prisoner Justice Project
What do you do to relax / have fun?
I read and write science fiction: I just finished Ancillary Justice, the first of a new trilogy, and I can't wait for the next one! I also listen to music very loudly and sing it very loudly to my cat and (reluctant) best friend/roommate Bahar.
What is your favorite meal to cook?
I used to work at a vegan restaurant, so I can make a pretty good vegan ruben sandwich or a vegan BLT. I also make a special dish I called popcorn tofu, which is basically like popcorn chicken except tofu.
Favorite animals?
The slow loris, sugar gliders, sloths, and cats. Since I have ethical qualms about keeping the first three as pets, I have a cat named BB.
If you have pets, do they do anything funny?
BB has a tendency to run into objects or walls whenever we're talking about how graceful or majestic she is. She has good, probably unintentional, comedic timing.
Favorite spot in NYC?
It seems to change every week! Gotham Lounge is a good bet, as are Nowhere Bar, Double Down, and Tandem (especially when they have goth nights).
Quirky facts about you?
I got banned (it has since been revoked) from my high school for my senior prank poking fun at the homophobia of the administrators.
What are your interests? How does that relate to your team at SRLP?
I'm interested in doing public criminal defense for those who cannot afford it, especially in courts dealing with prostitution. Because of both widespread profiling and lack of economic opportunities, these courts involve many low income trans women and trans women of color.
What made you most excited about coming to SRLP?
Working in an organization that has inspired me for years, back when it seemed like a far-off dream as a young trans woman living in the South.
Is there an issue or current event in which you are particularly engaged / interested?
How stigma around incarceration changes how institutions and even community members interact with certain people and situations, whether in the personal condemnation of someone or case law that draws exceptions to the constitutional rights applicable to the incarcerated.
What does one aspect of your utopia look like? (This could be political, fun, or both!)
Country music gave up its rampant jingoism, misogyny, and racism so that I could love it guilt free. Looking at you Tay-Tay.
What is a way(s) that you enjoy challenging gender stereotypes?
Responding to catcalling with death metal pig squeals.