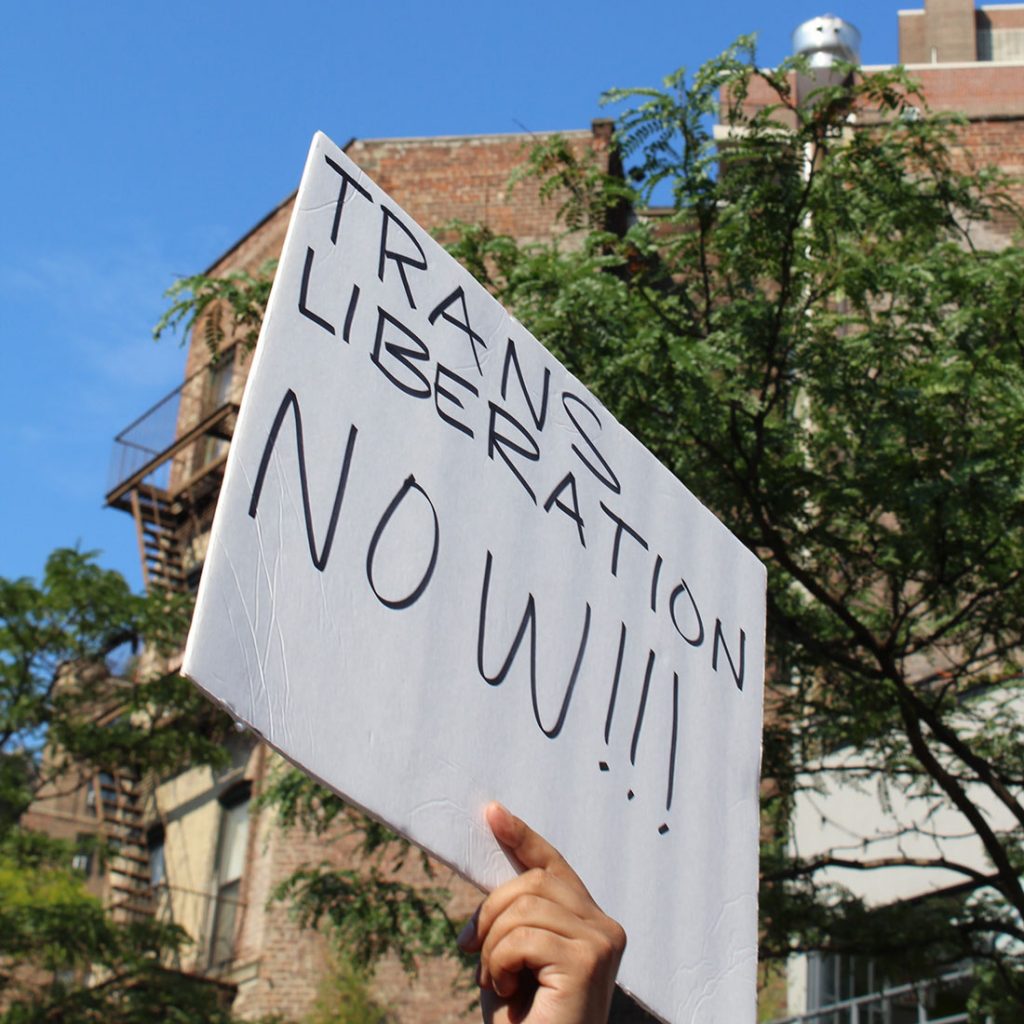 On September 30, 2016, the Legal Aid Society of New York and Cleary Gottlieb Steen & Hamilton LLP filed a civil rights class action lawsuit on behalf of women of color unjustly arrested for violations of New York Penal Law Section 240.37, the alleged crime of loitering for the purpose of prostitution. As a collective organization of transgender, gender non-conforming, and intersex (TGNCI) members and clients for whom police profiling, stops, and arrests for perceived loitering and sex work is all too familiar, SRLP passionately applauds the plaintiffs, advocates, and attorneys for calling for the City of New York and the New York City Police Department to recognize the unconstitutionality of the law and the practice of unlawfully enforcing it against our communities.
As an immigration attorney, I have seen how loitering for the purpose of prostitution laws leave deep impressions on the immigrants I work with. Just this week, I met with a long-term client at SRLP, Paz*, who was put into deportation proceedings in 2011 because of this law. Paz was arrested in Queens under Section 240.37, for walking while transgender with grocery bags at night. She had just walked away from being catcalled by two men who she didn't know. As she left the grocery store, police officers arrested her, accusing her of soliciting for prostitution. After difficult days and nights in the male section of a jail facility, she was transferred to Immigration & Customs Enforcement (ICE) custody and referred to immigration court.
Not only does this law, Section 240.37, provide grounds for the police to discriminate against, harass, and arrest transgender women, an arrest, even without conviction, can lead to complications in their immigration matters. The Immigration & Nationality Act is the controlling law behind many immigration decisions. Section 212(a)(2)(D) of the Immigration & Nationality Act states that any immigrant who "has engaged in prostitution within 10 years of the date of application for a visa, admission, or adjustment of status" is generally inadmissible to the United States. In other words, they are not legally permitted to enter the U.S., nor are they legally permitted to receive a green card, even if they are otherwise eligible. Because the Department of Homeland Security in many contexts is empowered to look beyond criminal convictions to decide whether someone is eligible for an immigration benefit, even someone who has managed the feat of convincing a criminal court judge to dismiss their loitering for the purpose of prostitution charge may still face legal consequences in the immigration context for their unjust arrest for a crime with the word "prostitution" in its name.
These arrests also carry a psychic toll. Clients who have been arrested for loitering for the purpose of prostitution laws in the past tell me routinely that they are afraid that their criminal record will affect their immigration options—all for being the targets of enforcement of discriminatory penal laws. These clients carry this fear with them throughout the entire process of their immigration applications. In each individual's case, we are forced to explain to the Department of Homeland Security what exactly happened, and, depending on the case, why they should be considered an exception or deserve to be a granted a waiver for their inadmissibility. Each time feels to me like a herculean instance of engaging an immigration officer in a lesson in systemic transphobia, racism, and classism in the criminal justice system. There are so many clients of mine who have been persecuted twice over by loitering laws. First, as their bodies and existences become subject to arrest just for being transgender, and again as they are forced to recount their distressing experiences—with me and with immigration adjudicators—in order to fight against the negative consequences that such persecution and profiling have in the immigration context. I want so much to be able to say that through this lawsuit, there will be fewer such instances in the future.
SRLP knows that this lawsuit is only one step towards taking action against the compound ways that laws have been and continue to be applied against the TGNCI community, rather than for or in support of. But we also know this step to be an important one that resonates with so many of our members and clients, and value the courage on the part of the women of color plaintiffs at the face of this lawsuit, representing others with painfully similar experiences. Instead of needing to fight every loitering for the purpose of prostitution charge one at a time, we look forward to a future when an SRLP member or client can say that there is no law in New York State that permits law enforcement to arrest them for daring to be dressed the way they wish to be dressed in public, be a woman of color in public, and proudly be transgender in public.
*Name changed for confidentiality reasons.
For the press release from the Legal Aid Society of New York and Cleary Gottlieb Steen & Hamilton LLP, click here.
To read Section 240.37 in its current state, go to this website, click PEN (for Penal Laws), click Article 240, then click 240.37.