When: Wednesday, February 12, 2014, 6:30 pm - 8:30 pm (iCal) Where: Audre Lorde Project, , , (See map)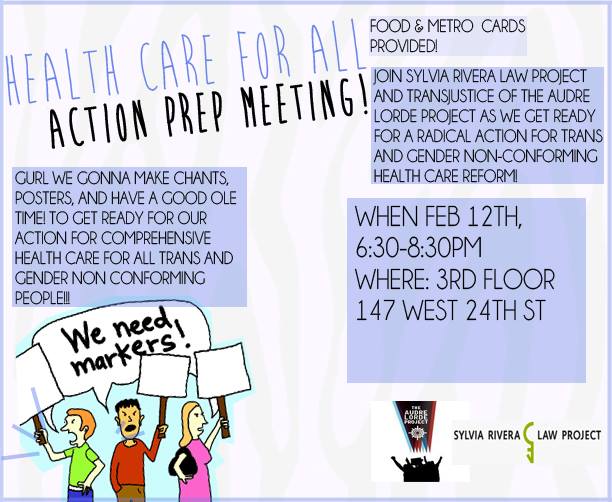 Join Sylvia Rivera Law Project and TransJustice of the Audre Lorde Project as we get ready for a radical Action for Trans and Gender Non-Conforming Health Care Reform!
Bring a shirt, bag, hat, poster board, sweatshirt, or anything you would like to silk screen to get ready for our action for comprehensive Health Care for all Trans and Gender Non Conforming People
Healthcare for transgender people isn't special healthcare. It's regular healthcare that non-trans people receive every day when they need it. Transgender health treatments are safe, effective and medically necessary for many transgender people. Unfortunately, healthcare is often denied to trans people due to misinformation and bias.
That's why we are calling on New York Governor Andrew M. Cuomo and New York State Health Commissioner Nirav R. Shah to repeal New York State Medicaid's regulation excluding transgender people from accessing care. Medicaid is meant to ensure that low-income people have the care they need to survive, and no one should be denied that just because of who they are.
By repealing the exclusionary regulation, Gov. Cuomo and Health Commissioner Shah can ensure that transgender people receiving Medicaid have the same access to essential care as all other eligible New Yorkers.
As the National Center For Transgender Equality and the National Gay and Lesbian Task Force found: transgender people live in poverty at 4 times the national average, a staggering 19% of transgender people report lacking any form of health insurance, including Medicaid.
The truth is that covering trans healthcare is affordable through insurance plans. As Basic Rights Oregon Points out: No jurisdiction, employer or insurance company which covers trans health care has found the cost to be prohibitive. In 2011 the city of Portland determined that the cost increase was only .08% of its healthcare insurance budget. Multnomah County has seen low utilization since 2001, The city and county of San Francisco have provided comprehensive coverage for years with research showing no discernible cost.
So please join us and tell NY Gov. Andrew Cuomo and NYS Health Commissioner Shah to let trans and gender non conforming people New Yorkers get the healthcare they need!
Map Unavailable