When: Friday, June 27, 2014, 2:00 pm - 5:00 pm (iCal) Where: Pier 45, W. 10th Street and West Street, New York, NY (See map)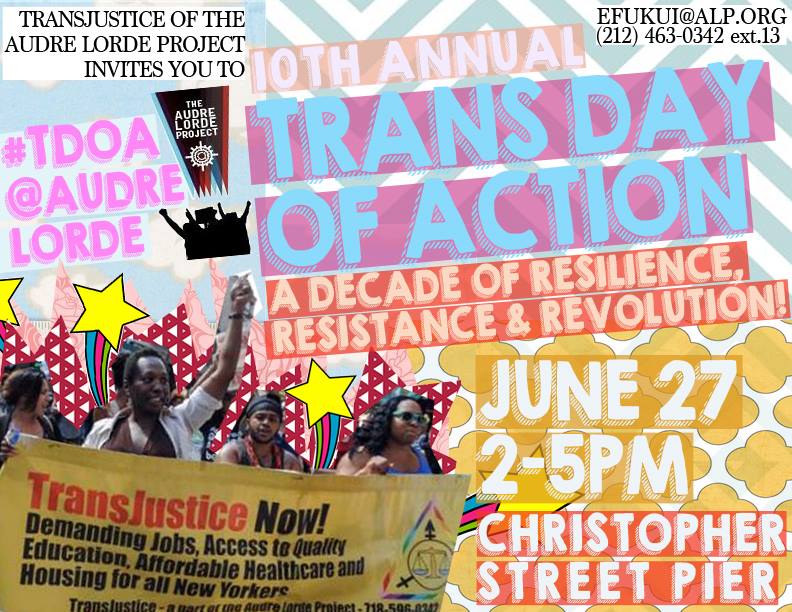 Join TransJustice of the Audre Lorde Project as we celebrate a decade of resistance, resilience and revolution through Trans Day of Action!
We are excited to take to the streets to honor the legacy of the Stonewall Riots through our annual march and rally for Trans and Gender Non-Conforming People of Color Liberation and Justice!
Come reclaim the streets of New York with us at the Christopher Street Pier on June 27th, from 2:00-5:00 pm.
Tweet #TDOA @audrelorde
On Friday, June 27, 2014, TGNC (Trans and Gender Non-Conforming) People of Color (POC) and allies will take the streets of New York City once again to demand justice and let the world know that the Stonewall Rebellion is not over and we will continue fighting for justice and raising our voices until we are heard.
We call on activists and organizers from all movements, both locally and nationally, to endorse this call to action and to build contingents to march in solidarity together on Friday, June 27, 2014.
To endorse the Trans Day of Action 2014, send an email to endorsetdoa@alp.org. For more information about the march send an email to Elliott at efukui@alp.org or contact TransJustice at 212-463-0342 x 13.
This year we are excited to celebrate a decade of resistance, resilience and revolution as we call for social and economic justice, and raise awareness of the many pressing issues TGNC POC face. On this day, the 45th anniversary of the 1969 Stonewall Rebellion, we will lift up and celebrate the legacy of the amazing TGNC POC warriors that have paved the way for our movements today. We will also honor and continue the struggle for justice, liberation, and recognition for all oppressed people across the globe.
We as TGNC People of Color (POC), recognize the importance of working together alongside other movements to create the world we want to see. We live in a time when oppressed peoples including people of color, people who are currently and formerly incarcerated, immigrants, youth and elders, people with disabilities, women, TGNC people, and poor people are underserved, face higher levels of discrimination, heightened surveillance and experience increased violence at the hands of the state. Let's come together to let the world know that TGNC rights will not be undermined and we will not be silenced!
_ _ _ _ _ _ _ _ _ _ _ _ _ _ _ _ _ _ _ _ _ _ _ _ _ _ _ _ _
Acompaña a JusticiaTrans del Proyecto Audre Lorde a celebrar una década de resistencia, resiliencia y revolución hasta el Día de Acción Trans!
Estamos emocionadxs de poder salir a las calles para honrar el legado de los disturbios de Stonewall a través de nuestra marcha anual y concentración para la comunidad Trans y Género No-Conformes de Liberación y Justicia de Gente de Color!
Ven a recuperar las calles de Nueva York con nosotrxs en el muelle de la calle Christopher, este 27 de junio, de 2:00 a 5:00 pm.
Pier 45
W. 10th Street and West Street
New York, NY