When: Friday, February 14, 2014, 12:00 pm - 2:00 pm (iCal) Where: New York State Department of Health, 90 Church Street, New York, NY (See map)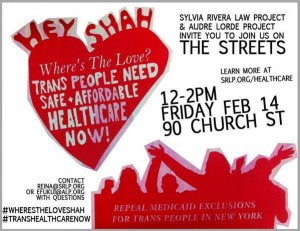 Join Sylvia Rivera Law Project and TransJustice of the Audre Lorde Project as we take to the streets to demand comprehensive, safe, and affordable Medicaid for Trans and Gender Non Conforming New Yorkers!
We demand that Commissioner Shah repeal regulations that exclude Trans and Gender Non-Conforming People from accessing life saving care!
We believe that everyone should have safe and affordable healthcare coverage and that includes transgender and gender non-conforming people.
When: 12:00-2:00pm, Friday February 14th
Where: 90 Church, NY NY 10007
Not in New York? Sign our petition to demand trans-inclusive and trans-affirming healthcare! http://srlp.org/healthcare/
Show your support on Facebook by joining and sharing our event: https://www.facebook.com/events/578182895611117/
And support @SRLP and @AudreLorde by copying and pasting this to Twitter:
@SRLP @AudreLorde demand #transhealthcarenow @HealthNYGov repeal the regulation excluding trans people from healthcare! #whereistheloveshah
For more information get in touch with Reina at Reina@SRLP.org or Elliott at efukui@alp.org and visit http://srlp.org/healthcare
New York State Department of Health
90 Church Street
New York, NY