Last week, SRLP's Reina Gossett was joined by Mara Keisling, Patricia Harrington, Noah Lewis, and Kye Campbell-Fox on Huffington Post Live to discuss the obstacles transgender people face when trying to obtain gender-affirming identity documents.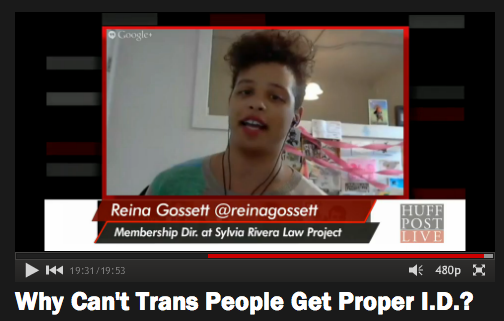 SRLP works to push state and city agencies to allow transgender people to change their documents to accurately reflect their name and gender. These changes increase transgender people's safety and ability to access employment, housing, and benefits without harassment or violence.
"No one needs to know what name you were assigned at birth or what gender you were assigned at birth. What's important is being able to have documents that reflect who you are right now," says Reina.
Listen to Reina discuss this important issue, as well as our work to repeal the Medicaid regulation preventing transgender people from obtaining coverage for transition-related healthcare.