Learn some fun facts about one of our summer interns and check back soon to meet the others! To apply for an SRLP internship visit: http://srlp.org/get-involved/jobs-internships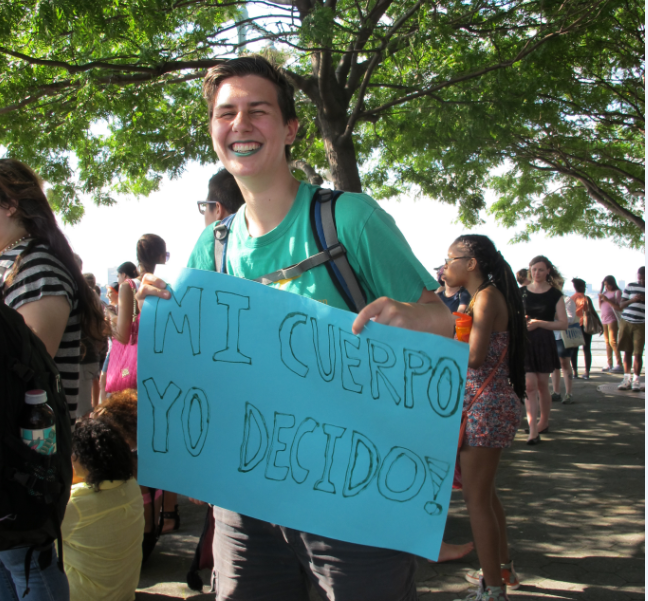 Name, Position and Team at SRLP: Maria Elena Covarrubias, SRLP Direct Service Intern and Red Umbrella Project Intern- Alternative to Incarceration Project
Pronouns: They/Them
What do you do to relax / have fun? I cook! And play music. I also like hanging out with people I care about, and enjoy deep conversation with people I've just met, discovering new bands, exploring new neighborhoods, and walking places by myself.
What is your favorite meal to cook? / What is one food you would want in limitless quantities? I make a lot of Thai curry (especially green curry and mussaman curry). For food I want in limitless quantities, I would have to say Chilean empanadas de pino- which unlike empanadas from elsewhere in Latin America are baked and have delicious marinated meat inside. You also spoon powdered sugar inside them before you eat them, which is pretty fun.
Favorite animals? Cats and dogs.
If you have pets, do they do anything funny? My dog purrs like a cat if you pet him right, which is pretty adorable. We call him a puppycat.
Favorite place to visit / spot in NYC? Jackson Heights. For sure. I watched Colombia lose the game in a smoothie shop in Jackson Heights that was full of Colombians, which was an experience. There's nothing quite like pan-latinx bonding over all of your countries losing in the World Cup.
Quirky facts about you? Many people in my life are singers, so I grew up with members of my family randomly breaking out into song to describe our everyday interactions. For example, "he's just a small town dog…living in a lonely woooorrrllldd" is a common theme song for my dog's life.
What are your interests? How does that relate to your team at SRLP? Politics relating to queer and trans people, latinx people, mental health, antipatriarchy, and destroying systems that function by making people disposable such as: the prison industrial complex, the immigration/deportation system, and mass surveillance. I really love that my work at SRLP and RedUP allows me to work from the intersections of so many different things that I'm interested in.
What made you most excited about coming to SRLP? I love the space that SRLP has been able to create for trans folks who don't find support many other places. I'm excited to be involved here and support this work, because it's really important to me and I don't see it happening very many places right now.
Is there an issue or current event in which you are particularly engaged / interested? Queer/trans organizing that doesn't fit mainstream narratives, immigrant's rights
What does one aspect of your utopia look like? Children's books that do radical retelling of history that's queer, decolonial, anticapitalist, sex positive, kinky, poly…etc. Therapy/mental health care that centers queer and trans experiences and the importance of community in caring for each other. Destroying patriarchy. Centering music as a means of healing from trauma.
What is a way(s) that you enjoy challenging gender stereotypes? It's really important to me to talk about owning femininity as a masculine person (especially as a trans masculine person) – I think that many times femininity is looked down upon, appropriated or made fun of by masculine folks in queer communities, and owning my own femininity has been a really important way that I've come to challenge gender stereotypes of late.