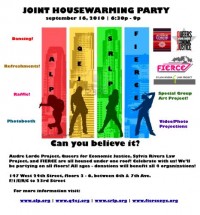 On Thursday, September 16, 2010, SRLP along with the Audre Lorde Project,FIERCE, & Queers for Economic Justice held a joint housewarming party to celebrate our new shared home at 147 West 24th Street (NYC).
Free and open to all ages, over 500 people joined in this vibrant celebration of the collaborative spirit of four established community organizations with a combined 42 years of critical work in New York City.
"We have reached a milestone for the growing power of grassroots LGBTQ organizing in New York City," stated Rickke Mananzala, Executive Director of FIERCE. "Sharing the same building gives our members greater access to our programs and services in one location while offering a safe and welcoming social space for community building. It also gives our organizations a great opportunity to amplify our impact, share resources, and work collaboratively on efforts that will improve our communities."
The (free) event raised over $3,000 from hundreds of small donations and 100% of the event's proceeds will be split between SRLP, QEJ, FIERCE and ALP. Community members enjoyed a dance floor, group art project ("the LOVE wall"), refreshments, a raffle, speeches livecast on multiple floors, photo and video histories of all the organizations, and a contest to name the building.
"The joint housewarming is more than just a party," said Emily Nepon, Grassroots Fundraising Director
for SRLP. "This event celebrates our community's radical creativity, resilience, and courage. Every
year, our organizations are energized and inspired by the amazing people who make this work
possible."

For more info:

 and here's a few pictures by Kian Goh of ALP!