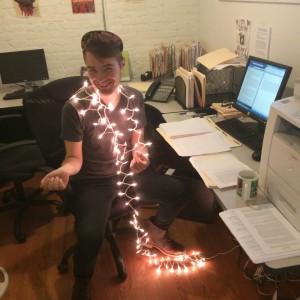 Name, Position and Team at SRLP:
Kyle Rapiñan, Legal Intern for Immigrant Justice and Survival and Self-Determination!
Pronouns:
He/his and they/them

What do you do to relax / have fun?

I enjoy supporting the work that SRLP and other rad organizations pull off in New York City. The Miss Major-Jay Toole Building for Social Justice houses some of the best organizations committed to racial and economic justice, and I am thrilled to be able to support these organizations and their members whenever I can. That is pretty fun to me! I also might like taking some pics as well.

What is your favorite meal to cook?
Sometimes, I eat pasta way too often.
Favorite animals?
My favorite animal is a napping animal!

If you have pets, do they do anything funny?
I have a long-term kitty partner named Orion. They like to wake up me to purr's and cuddles. We have been together for about five years, and we moved all the way from Seattle together!
Quirky facts about you?
I knew people who used to be myspace famous.
What made you most excited about coming to SRLP?
I am thrilled to use the law for good, in the midst of all the evil it has inflicted onto our communities. The law, when used for good can help transgender people get immigration status, name changes, and identity documents! I am grateful that SRLP exists, and we can work together to promote and advance transgender folks of color, especially trans women of color.
What does one aspect of your utopia look like?
My utopia is a world without prisons, cages, borders and detention facilities. Also, lots of cats, free mass transit, and perhaps, a few healing unicorns.
What is a way(s) that you enjoy challenging gender stereotypes?
Lots of floral. And, promoting and affirming fellow activists, mentors, and community members.