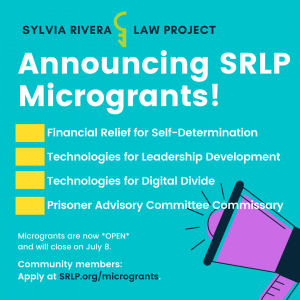 SRLP is responding to the urgent needs of our community during this unprecedented moment by establishing a micro-grants committee to address systemic barriers for the survival and self-determination of our community. Community members are invited to click on the links below to apply:
Microgrant applications are now open and will close Wednesday, July 8.  The SRLP micro-grants committee prioritizes SRLP members, but aims to reserve 20% of funds for TGNCI people of color and low-income TGNCI people who are core community members per our mission statement and plan to become active members.
The micro-grants are new developments for SRLP in envisioning ways to keep supporting, uplifting and addressing needs for our people, by our people.
***
Grassroots fundraising—individual contributions from our supporters—allow us the flexibility to move resources directly to our membership: transgender, gender non-conforming, and intersex people of color and low-income TGNCI people.
In June 2020, we are calling on our community to help us raise funds to sustain this micro-grants program. If we can reach our goal, we will be able to continue to provide microgrants to SRLP members through the summer, and, hopefully, beyond!
Visit SRLP.org/5050 to learn more and contribute.