***Art submission form is due by Friday, February 14 – see below for more details ***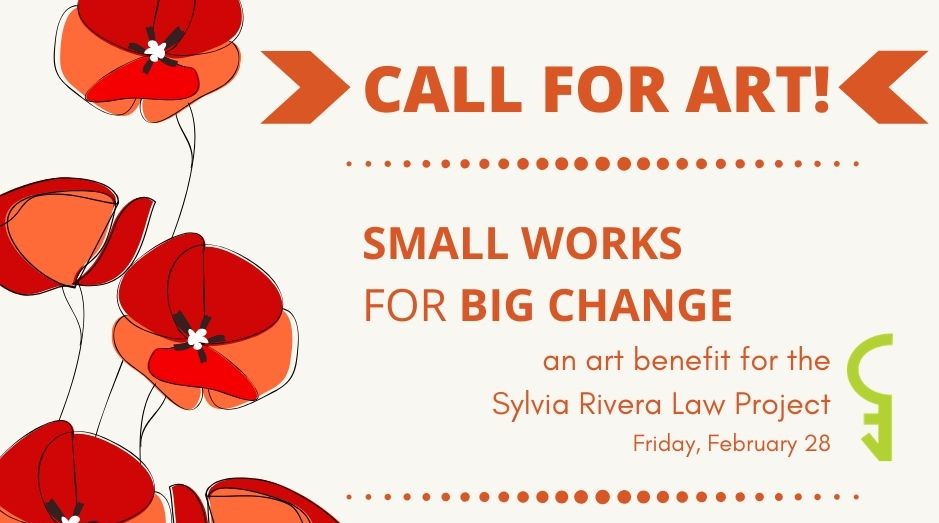 The Sylvia Rivera Law Project is delighted to uplift the artistry of our community and allies!
Support our transformative work in movements for trans liberation rooted in racial & economic justice by donating artwork to our storied art benefit, Small Works for Big Change.
All proceeds from art sales go directly towards supporting our movement-building work as well as our provision of free legal services to trans, gender non-conforming and intersex people of color and low-income TGNCI people.
All are welcome to attend Small Works for Big Change on Friday, February 28 at St. John's Church on Christopher Street. Event registration here. We encourage all artists, especially those who identify as trans, queer, people of color, immigrants, currently or formerly incarcerated, disabled, and other marginalized identities, to donate.

This year's theme is What Would be Possible?
Artists are invited (but not required) to submit art that reflects on the question: "If we had all the resources we needed, what would be possible for our communities?"
How to submit art:
Please fill out this art submission form.*** An image of your artwork is required for identification, tracking and display purpose. The deadline for submitting this form is Friday, February 14, 2020. If you've missed the deadline, we highly encourage you to contribute to our next event! 
We will contact you once your art submission has been received to schedule a time for you to drop off your artwork at our office. You can also mail your artwork. The artwork must arrive at Sylvia Rivera Law Project's office by Tuesday, February 25.
We have a limited stipend for shipping reimbursement for low-income artists. If you need a reimbursement for your shipping fee, keep your receipt and contact Adelaide at adelaide@srlp.org.
Submission details:
Due to the nature of the event, we are asking for small works that are ready to be hung on the wall, such as photography, painting, drawing, sculpture, textile pieces, and mixed media installations.
Because we do not have the capacity to provide shipping services, the artwork must remain small enough to be carried and transported by car or subway.  For art pieces, we ask that the donation be limited to 11" x 16" or under. If there is a piece you would really like to donate but is larger, please contact Adelaide at adelaide@srlp.org.
The artwork will be displayed as received. Artwork sent without frames will be installed with clips or small pins. If you have specific requests for how you would like your artwork to be displayed, please send instructions along with your art submission form.
***If you are unable to fill out the online form, please download the Word version of the contribution form and mail to the attention of the Small Works for Big Change Committee at Sylvia Rivera Law Project, 147 W 24th Street, 5th Floor, New York, NY 10011.
Download the art submission form as a Word document
About SRLP: 
The Sylvia Rivera Law Project (SRLP) works to guarantee that all people are free to self-determine their gender identity and expression, regardless of income or race, and without facing harassment, discrimination, or violence. SRLP is a collective organization founded on the understanding that gender self-determination is inextricably intertwined with racial, social and economic justice. Therefore, we seek to increase the political voice and visibility of low-income people and people of color who are transgender, intersex, or gender non-conforming. SRLP works to improve access to respectful and affirming social, health, and legal services for our communities. We believe that in order to create meaningful political participation and leadership, we must have access to basic means of survival and safety from violence.