So much to do and so much to celebrate!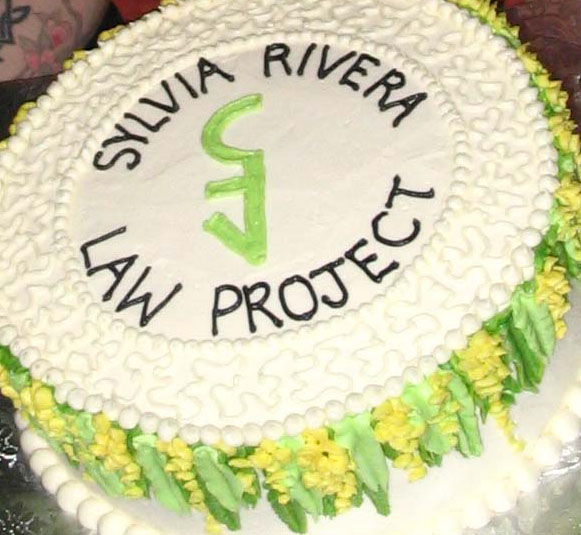 Here is a brief history of our victories, not to mention all of the community events, daily legal services, and collaboration with our partners and allies!
2002
SRLP began as a one-person fellowship project at the Urban Justice Center.
2003
SRLP wins victory in Doe v. Bell, establishing that transgender youth in New York State Foster care cannot be forced to wear clothing associated with their birth-assigned sex.
SRLP wins victory for trans parental rights in Morrill v. Morrill, establishing a transgender parent's right to visit her children.
Tara Mateik and SRLP produce the documentary "Toilet Training," an education tool to address discrimination and harassment against trans people in public bathrooms.
SRLP wins a victory in a precedent-setting case IN RE GUIDO, establishing that evidence of genital surgery and divorce cannot be required of a transgender name change applicant.
2004
SRLP establishes the Medicaid Equality Initiative to challenge Medicaid's denial of coverage for transition-related healthcare.
SRLP transitions to a community-based collective. At the first collective retreat, our mission statement and organizational goals are finalized.
SRLP helps to develop the New York City Commission on Human Rights Guidelines Regarding Gender Identity Discrimination to educate the public about the Human Rights Law prohibiting discrimination against transgender people in employment, housing and public accommodations, including city agencies.
2005
SRLP collectively recommits to prioritizing racial justice work and begins a year-long partnership with Dismantling Racism Works to bring anti-racist practices to the center of our work.
SRLP convened a coalition of 13 organizations to demand that New York State Department of Health revise their unfair, surgery-based policy regarding changing sex designation on birth certificates.
Our Prisoner Justice Project begins through a fellowship.
SRLP hosts our first art benefit, Small Works for Big Change, featuring over 40 artists!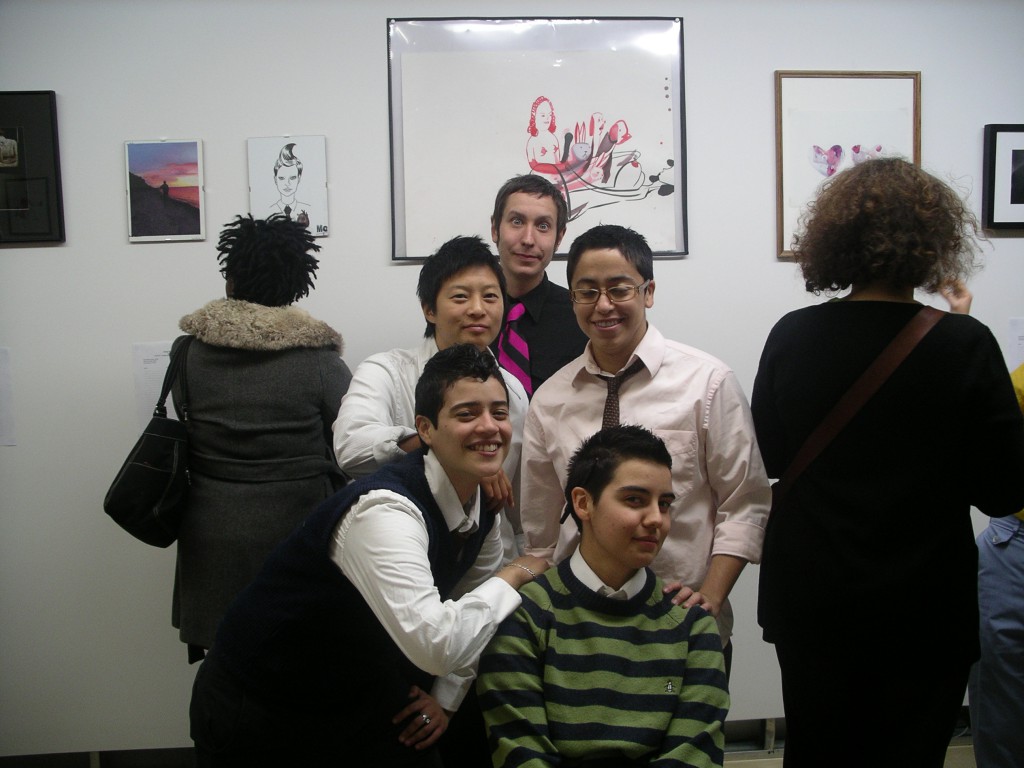 2006
SRLP helps make New York City's homeless shelter system safer for transgender people with the passage of a new Department of Homeless Services Policy, which guarantees that transgender people will be placed in shelters according to their gender identities.
SRLP joins the Gender Action Coalition to take on discrimination at the Human Resources Administration and to ensure that trans people receive safe, affirming, and non-discriminatory services.
SRLP wins a victory for trans youth in juvenile justice! A settlement reached in Rodriguez v. Johnson requires the Office of Children and Family Services – the agency that cut our client off hormones, placed her in boys' detention facilities, and disciplined her for expressions of femininity – to meet with SRLP and Lambda Legal over the next five years to improve its policies regarding transgender youth.
2007
SRLP, with the New York Legal Assistance group and Orrick, Herrington & Sutcliffe LLP, files the first lawsuit to challenge New York's exclusion of Medicaid coverage for transition-related healthcare.
SRLP attends the first US Social Forum, playing an important role in the Queer Visibility Committee, organizing "Trans 101" trainings for the USSF National Planning Committee, volunteers, and security teams, and co-facilitating a day-long pre-conference gathering called Building a Queer Left with Queers for Economic Justice and Southerners on New Ground.
SRLP organizes Transforming Justice, a first-of-its-kind national gathering for formerly incarcerated trans people and activists, attorneys, and advocates to address issues facing trans people in prison.
SRLP successfully fights the Board of Correction's attempt to drastically lower minimum standards governing the treatment of prisoners in NYC jails.
SRLP publishes "It's War in Here: A Report of Transgender and Intersex People in New York State Men's Prisons," documenting the daily realities of our incarcerated community members.
SRLP launches the Prisoner Advisory Committee (PAC), a forum for trans and gender non-conforming prisoners to build community and participate in policy work that affects their lives. PAC members work closely with SRLP staff to develop comments to the proposed regulations of the Prison Rape Elimination Act.
2008
SRLP achieves a victory for youth in juvenile justice! The New York State Office of Children and Family Services releases a groundbreaking policy that prohibits discrimination against youth on the basis of actual or perceived sexual orientation, gender expression, or gender identity.
SRLP achieves victory for youth in NYC foster care. The Administration for Children's Services approves a new non-discrimination policy that prohibits its staff and contract agencies from discriminating on the basis of gender identity.
SRLP wins the first New York appellate case addressing transgender name changes. In Matter of Golden, the State Supreme Court's Appellate Division, Third Department, upholds transgender people's right to change their names without requiring medical evidence.
SRLP publishes the first issues of In Solidarity, the collaborative newsletter created by PAC members, SRLP staff and volunteers!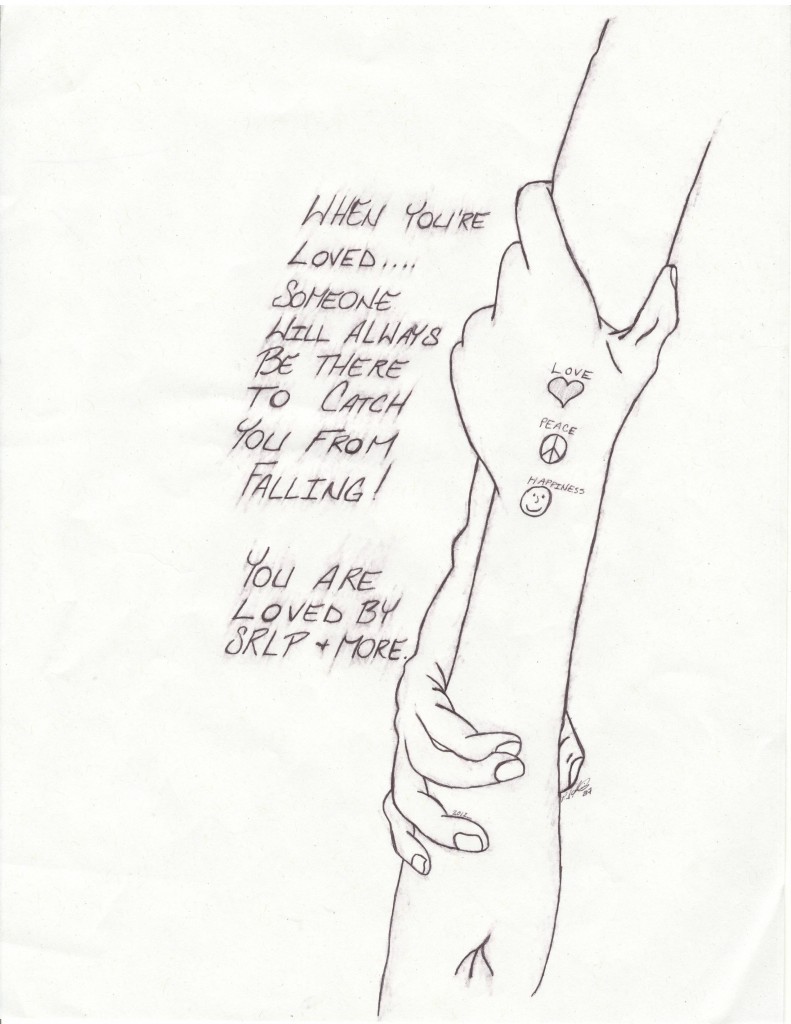 2009
SRLP produces a new publication, "Tips for Communicating with Trans Clients in Prisoners' Rights Cases," with input from PAC and allied organizations. This publication is used as a tool to train attorneys at private firms on trans issues.
SRLP successfully pushes the National Commission on Correctional Health Care to adopt an official position statement supporting the provision of transition-related health care to transgender prisoners.
SRLP provides free and affirming direct legal services to our 1,000th client!
SRLP, along with TransJustice of the Audre Lorde Project, Queers for Economic Justice, and Housing Works, achieves a hard-won victory for trans and gender non-conforming people when the Human Resources Administration passes a new procedure to end discrimination and harassment in New York City's welfare system.
2010
SRLP moves into a new office, joining close organizational allies the Audre Lorde Project, FIERCE!, Queers for Economic Justice, and Streetwise and Safe.
SRLP launches the new Movement Building Team to develop the skills, leadership, and political power of low-income transgender people and transgender people of color to participate in SRLP's work and in our larger movements for social justice.
SRLP's work with the Administration of Children's Services results in policy to review all requests for healthcare not covered by Medicaid, which almost all youth in foster care receive. This policy supports the right of transgender youth to receive gender-affirming healthcare.
2011
SRLP and the National Center for Lesbian Rights publish "A Place of Respect: A Guide for Group Care Facilities Serving Transgender and Gender Non-Conforming Youth," to provide comprehensive guidance about the treatment of trans and gender non-conforming youth in group care facilities.
SRLP creates more accessible pathways for gender marker change by challenging a NYC Department of Health and Mental Hygiene policy requiring burdensome documentation in order to change sex designation on birth certificates.
SRLP provides accessible and useful information for trans prisoners who are trying to bring lawsuits on their own behalf in a section of "The Jailhouse Lawyer's Handbook: How To Bring A Federal Lawsuit to Challenge Violations of Your Rights in Prison," published by the Center for Constitutional Rights and the National Lawyers Guild.
Working with a coalition of juvenile justice advocates, SRLP successfully pushes the Division of Youth and Family Justice to create and adopt a new gender identity and expression non-discrimination policy, including transition-related medical coverage for youth and individualized assessments for placement, instead of placing youth based on their assigned birth sex.
SRLP wins a successful outcome for our client in Lewis v. Fischer, a case challenging NYS Department of Corrections and Community Supervisions policy that provides for the provision of hormone treatment only for prisoners who have a valid prescription of hormones at the time of their arrest but not for the initiation of hormone treatment for those who did not choose or were unable to access treatment prior to incarceration.
SRLP publishes "Participating in Direct Actions: A Guide for Transgender People" in coalition with the National Center for Transgender Equality, Streetwise and Safe, and other activists.
At Occupy Wall Street, SRLP organizes delegations for marches and hosts teach-ins to share trans organizing history and develop strategies to create a more trans-inclusive movement.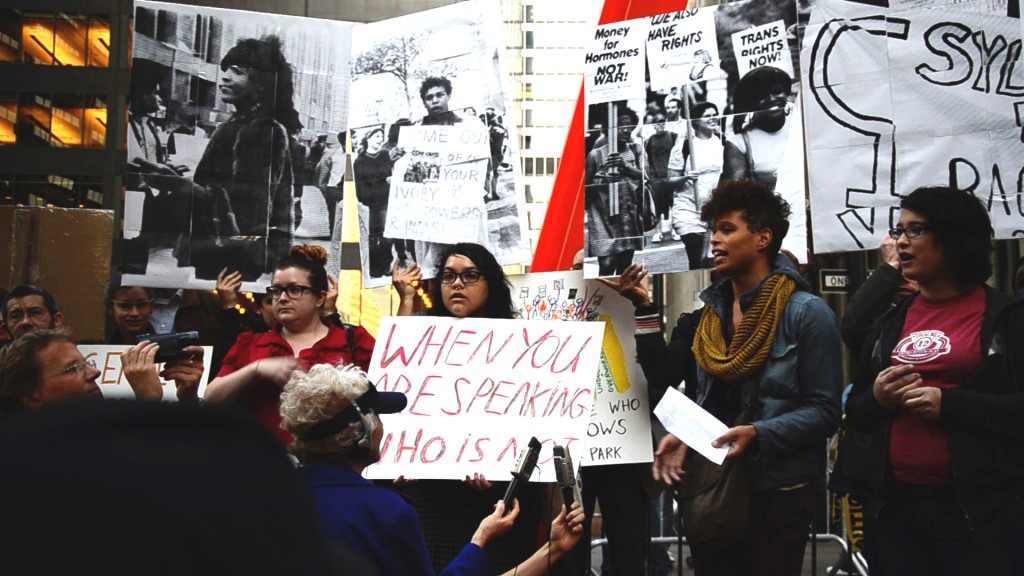 2012
In Matter of Powell, SRLP wins the first appellate case in NYS affirming the right of trans prisoners to obtain name changes without providing medical evidence. This decision helps to ensure that trans people in prison will have access to the courts to assume names consistent with their gender identities and that the law applies equally to incarcerated and non-incarcerated transgender petitioners.
SRLP successfully pushes Department of Justice to include meaningful protections for incarcerated transgender, gender nonconforming, and intersex people within the final rule implementing the Prison Rape Elimination Act.
SRLP's first membership orientation! SRLP launches a new membership structure to allow even more of our community members to get involved in the fight for gender justice!
2013
SRLP and our allies take action at NY Health Summit, calling action for end to healthcare discrimination for TGNC people.
SRLP launches Blogging from the Inside: Writings by Transgender People in Prison, where members of our Prisoner Advisory Committee can share their stories and experiences!
SRLP protests at City Hall to end Secure Communities and Stop and Frisk.
SRLP honors Miss Major and Jay Toole along with the Audre Lorde Project, FIERCE!, Queers for Economic Justice, and Streetwise and Safe at our building naming community event.
2014
SRLP's Small Works for Big Change art event is the biggest its ever been with over 100 contributing artists!
SRLP celebrates the Audre Lorde Project's victory hosting the 10th annual Trans Day of Action!
SRLP's Hey Shah Where's The Love? protest at the NYS Department of Health office to urge Governor Cuomo and Commissioner Shah to repeal the Medicaid regulation that denies TGNC people healthcare. It was done with the support of Trans Justice of the Audre Lorde Project, Make the Road, Trans Women of Color Coalition, and Trans Latinas!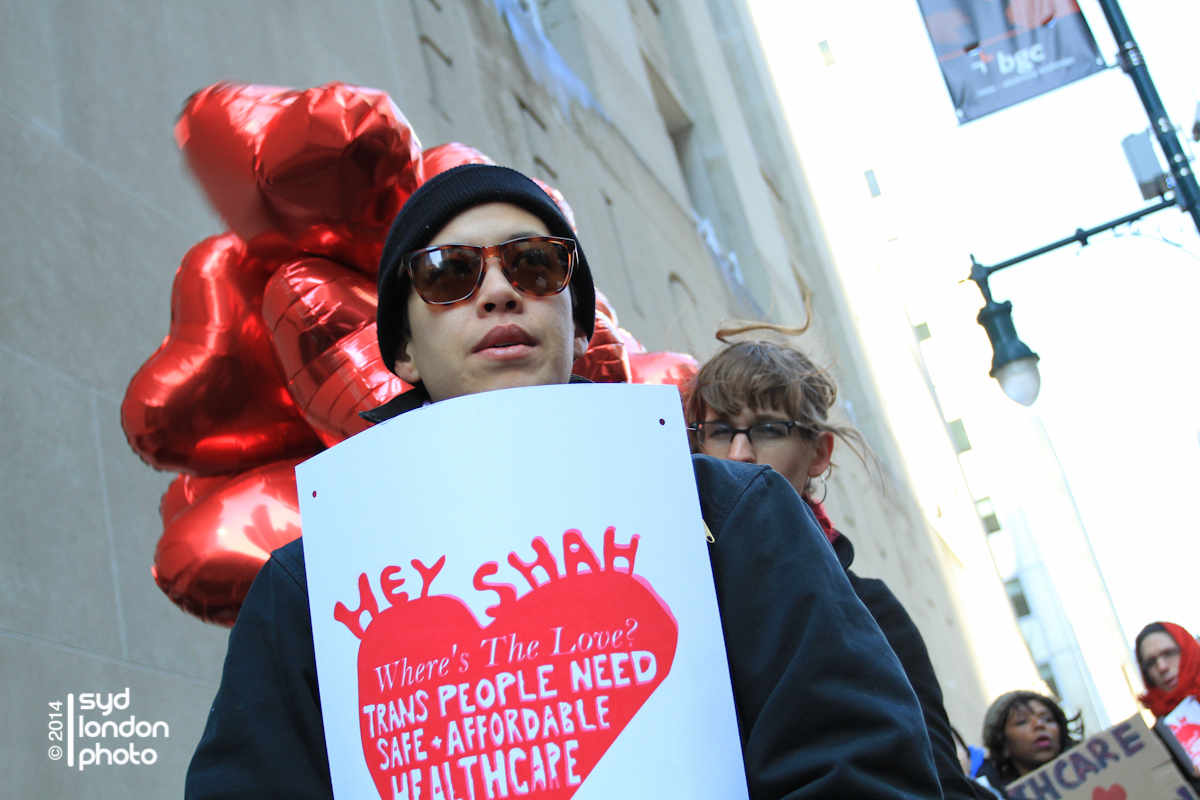 SRLP victory for transgender New Yorkers! After 10 years of negotiations and hard work NYS has changed its policy that will eliminate barriers to identity documents by allowing transgender New Yorkers to change the gender marker on their birth certificate without undergoing surgery. However, this policy does not extend to to people born in NYC, youth, and incarcerated people.
SRLP conducted a three-part training for the NYS Judicial Institute. "Transgender Litigants in the Court System: Providing Equal Access and Impartial Justice" educated 100 judges, court officers, and attorneys about transgender and gender non conforming people in the judicial system. This training was cited in the landmark New York State Supreme Court (Kings County) decision in Wilson v. Phoenix House!
SRLP launched a new public education and organizing campaign to support our ongoing work to repeal the transgender healthcare exclusion in New York State's Medicaid policy. In coalition with GLAAD, we raised awareness about the necessity of trans healthcare and are putting increased pressure on the Department of Health to repeal the regulation.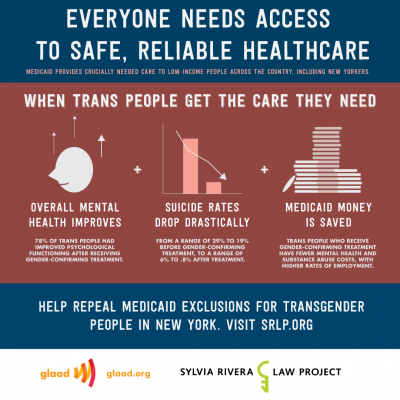 SRLP's Movement Building Team was busy presenting Know Your Rights trainings on how to handle police interactions and access healthcare, 4 membership orientations for over 60 new members, Prison Postcard Project Gatherings sending 150 postcards, and a sign making party for Trans Day of Action!
SRLP, in collaboration with Willke Farr & Gallager and the Legal Aid Society litigating a federal class action suit against the New York State Department of Health, and on community organizing with the Audre Lorde Project and Make the Road New York. Together, we are demanding policy change and increasing awareness of issues impacting low-income transgender people and transgender people of color through the media and in the streets.