What do you think about the recent explosion in crowdfunding tools? Tons of individuals and communities — from organizations like SRLP, to community art projects, to individuals in need of emergency healthcare in the context of a dismantled public infrastructure and almost nonexistent social safety net – are using crowdfunding tools to resource their work and needs.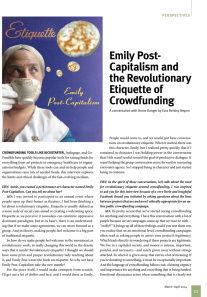 Check out SRLP friend and former staff Ezra Berkley Nepon's interview with Annie Danger on the uses and limits of crowdfunding in the most recent issue of the Grassroots Fundraising Journal: http://www.anniedanger.com/a-radical-ethics-of-crowdfunding/
We're so excited to hear folks talking about the benefits and the challenges of this model, as well as insights and questions about accountability and community relationships in the context of internet anonymity and raising money, period.
If you're not already a Grassroots Fundraising Journal subscriber, consider signing up!
http://www.grassrootsfundraising.org/grassroots-fundraising-journal
GFJ is produced by our friends at Grassroots Institute for Fundraising Training and is a consistently amazing resource for fundraisers and anyone else who spends time thinking about how to resource our movements for radical social change.