SRLP Supports LGBTQ Day at the #not1more Deportation Hunger Strike on Tuesday, April 29th in Washington DC!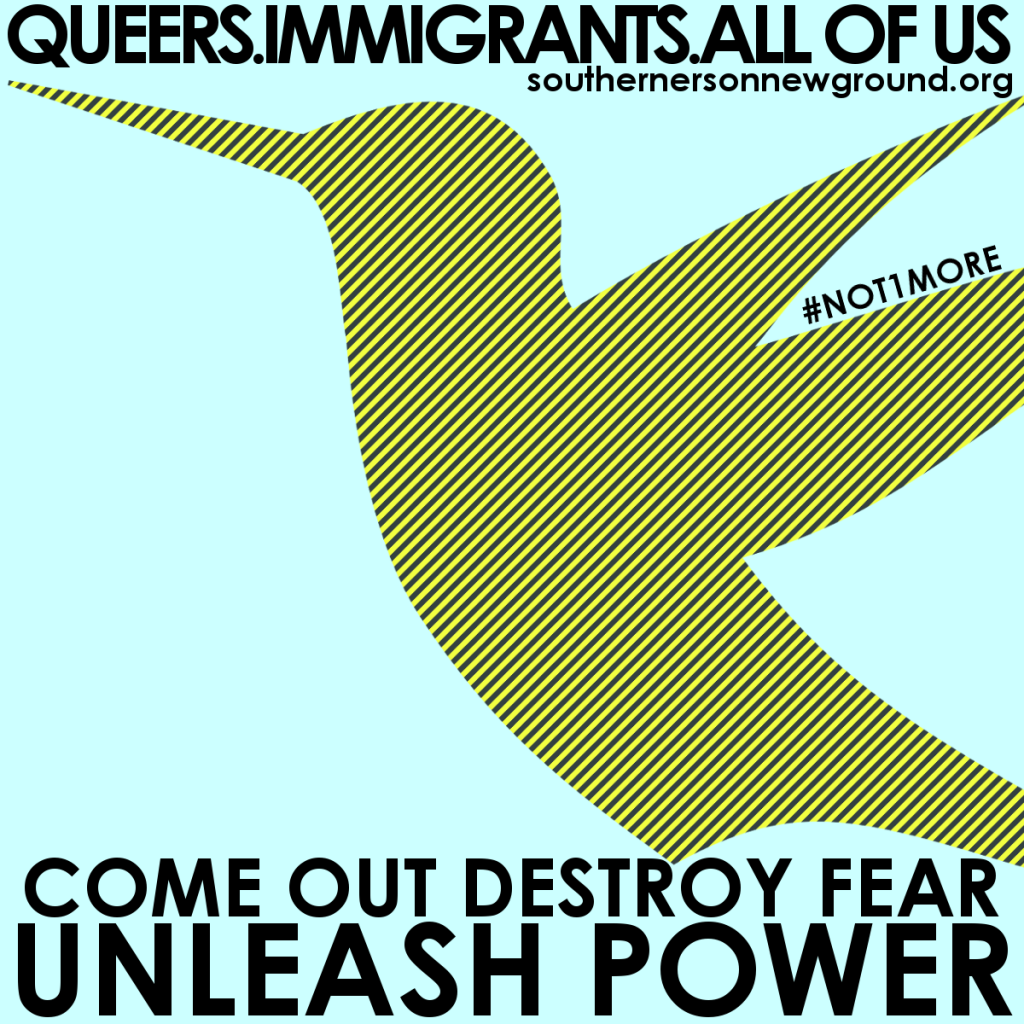 If you're in DC or close by join the for President Obama to stop the deportations and provide immediate administrative relief!
More information from Southerners On New Ground (SONG):
As many of you know the #not1more Deportation campaign's White House Hunger Strike is entering its 5th week! SONG will be joining other LGBT leaders and groups coming OUT to support the call for #not1more on Tuesday, April 29th in Washington, D.C., on the White House's front lawn.
Live Nearby?
Join us for a full LGBTQ Day in support of the hunger strike. Come learn what other folks are working on as part of the campaign, what's on the horizon for future actions, how to plug in, and how we can coordinate future work that grows our communities' power!
Tuesday, April 29
White House: Lafayette Park at 16th and H. Street NW [Lafayette Square 1600–1608 H St NW, Washington, DC 20006]
10:30 AM // Welcome and Story Circle
Join us for a morning kickoff! Learn more about the #not1more campaign, what different organizations are doing to support our LGBTQ immigrant and undocumented folks, and share cases that we will be highlighting and supporting during the day!
11:30 AM // Art Making!
Bring your art supplies and help us up our banner swag by making signs for the day!
12:30 PM // Lunch
1:30 PM // Press Conference and visit with Congressional Legislators
4:30 PM // LGBTQ Hunger Strike Happy Hour!
Join SONG, the AZ Dream Act Coalition, DRM Action and Immigration Equality for a closing of the day and connect with LGBTQ folks working on the #not1more campaign! This will be an opportunity to learn about ways to stay engaged and to support specific cases to get LGBTQ folks out of deportation and detention. Join us in growing the movement for a stop to ALL deportations and an immediate path to Administrative Relief!
Live Hours Away From the White House?
You can still help support the #not1more campaign and the LGBTQ Day at the Hunger Strike!
Help us spread the word by sharing this post or sharing the Facebook event with people you know who might live in the area. https://www.facebook.com/events/436407159837743
Download and share our newest meme on social media on Tuesday. Available for download at http://wp.me/a1CBWf-l5
Follow us on social media today to share day of news, our message, memes, and hashtags using #queeringimmigration, #not1more, #ni1mas, #2million2many
Join the Transgender Law Center, SONG, and a broad coalition of LGBTQ organizations to endorse the #not1more campaign http://transgenderlawcenter.org/archives/10129
Become a SONG member to get connected to our ongoing work https://song.ourpowerbase.net/civicrm/contribute/transact?reset=1&id=3
Learn more about the #not1more campaign at http://notonemoredeportation.com
For more information or questions, contact paulina@southernersonnewground.org or salem@southernersonnewground.org
#not1more #ni1mas #2million2many #queeringimmigration