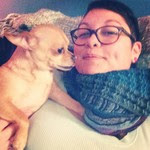 If you're like me, you've already received a bunch of emails today asking you to donate for #GivingTuesday. Some organizations have paid to run commercials on TV, and some organizations are being promoted by their corporate sponsors. If you are considering participating in #GivingTuesday, I hope you will think about providing grassroots support to an organization working toward gender self-determination, the Sylvia Rivera Law Project.
You won't see the Sylvia Rivera Law Project spending money on a TV commercial today. Our resources fuel our work to increase the safety, survival, political voice, and visibility of low-income people and people of color who are transgender, intersex, and gender nonconforming.
Your support pays for name changes and immigration asylum cases; sends legal service packets sent to transgender and gender nonconforming people in prison; funds movement-oriented workshops for activists, service providers, and government administrators; and gives us the resources we need to create know-your-rights tools, provide food at meetings, and offer metrocards so that members of our community have fewer barriers to struggle and build with us.
So if you do plan to make a donation on #GivingTuesday, I hope you will continue to be a part of the Sylvia Rivera Law Project's community of support by donating today.
Thank you for supporting SRLP today!