When: Sunday, June 25, 2023, 2:00 pm - 5:00 pm (iCal)
SRLP Staff and Members of SRLP's Movement Building Team are joining the Queer Liberation March this Sunday June 25th.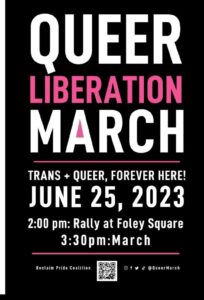 Logistics:
Sylvia Rivera Law Project is mobilizing as a part of the Queer Liberation March on Pride Sunday June 25th 2023. The March begins with a Rally at Foley Square (Lafayette Street Worth Street, Centre St, New York, NY 10013) and ends at Washington Square Park. To join us contact Sasha@srlp.org 
For anyone meeting at the Rally who is Marching with SRLP, please arrive by 2pm at where Pearl Street meets Center Street (by the water fountain.) 
For anyone meeting us at Washington Square park we should arrive between 4pm-4:30pm depending on the march pace. We will plan to arrive and sit on blankets in the shade.
What is the Queer Liberation March?
In the city of New York, home to the Stonewall Inn, a group of Queer activists decided the Parade in NYC had gone too far —  too far from the spirit of the Stonewall Rebellion, and miles away from achieving societal equity for queer and trans people.
So was born the Reclaim Pride Coalition.
Community organizers, activists, and queers of conscience banded together after years of seeing the annual NYC Pride March transformed into a 7, then 9, then 12 hour circus.  Overflowing with corporate floats and at the service of corporate money, the Pride Parade had become a new symbol of gay for pay. The imposition of barricades along the parade route separated the participants from its audience, turning the Pride March into an entertainment venue instead of a true expression of our cultural legacy.  The presence of a dozen police officers at every intersection of the Parade marked the collusion of the non-profit board and the very instance of state sponsored oppression.  
The Reclaim Pride Coalition stands by the tag, "No corps, no cops, no bs!" 
Read more at: https://reclaimpridenyc.org/
How can I support the event?
Come out and march with us in person meet us at Foley Square or meet us after the march at Washington Square Park. If you're not able to join us or want to support from home you can follow the Queer Liberation March Live Stream. If your active on social media you can also @SRLP on Instagram, Facebook, or Twitter. Can't make it out but want to get connected? Contact MBT@srlp.org to get connected to our Movement Building Team. 
What should I bring?
-Comfortable clothes/shoes to march and move in – it will be hot out and may rain
-Water (we will also bring some)
-Light snacks (we will also bring some)
-Make a sign or banner to bring or help us carry the SRLP banner
-a light blanket to sit on in the park 
About the Route and Access
The March route will not be barricaded and participants are welcome to join or depart at any point along the route.  The route is approximately 2 miles long, stepping off at Foley Square, marching past City Hall, up Church Street to 6th Avenue, and ending at Washington Square Park.  A map of the route with important landmarks is available at QLM 2023 Accessibility Map.
The closest accessible subway stations to the March's stepping off point are Brooklyn Bridge-City Hall (4, 5, & 6) and Chambers St (J). The closest accessible subway station to the March's end at Washington Square Park is West 4 St-Washington Sq (A, C, D, E, & F).  The MTA has created an Accessible Stations Subway Map and maintains an updated list of MTA Accessible Stations. NYRestroom.com maintains a list of public restrooms and allows users to filter for accessibility.
If you have any specific access needs or suggestions you would like us to know about, please email access@reclaimpridenyc.org.