When: Friday, February 28, 2020, 5:00 pm - 9:30 pm (iCal)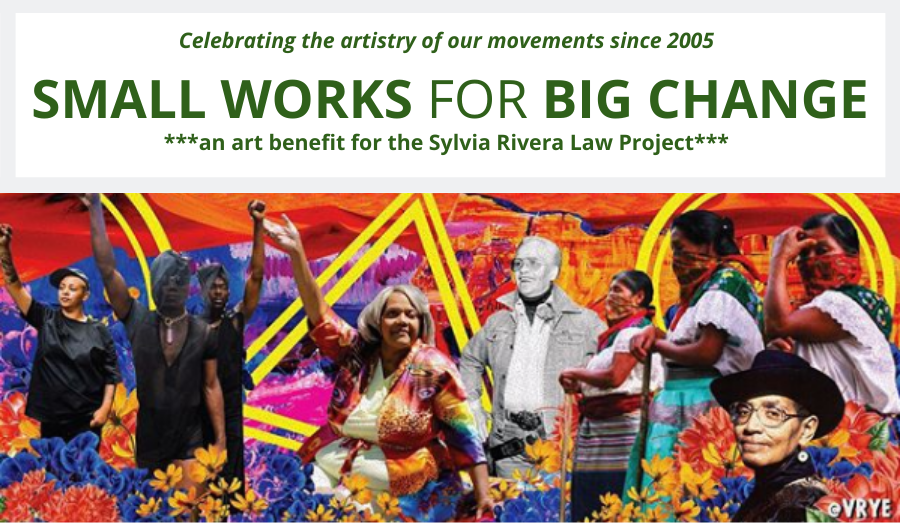 Donate to SRLP | Submit Art | Register to Attend | Volunteer
The Sylvia Rivera Law Project is thrilled to invite you to our storied art benefit, Small Works for Big Change!
Small Works for Big Change is an art benefit for the Sylvia Rivera Law Project. For 15 years, Small Works has provided an important space for trans and gender non-conforming artists, especially trans and gender-nonconforming artists of color and low-income TGNCI people, to showcase their work and increase their voice and visibility.
Small Works for Big Change is a chance to get to know SRLP, our work, our history, and our growing community. We're excited that this year, Small Works will feature art and history from SRLP's work in NYC.
You can support SRLP at Small Works for Big Change by bidding on artworks (with bids starting as low as $15); buying affordable fixed-price artwork, jewelry, and SRLP merchandise in our Small Works Pop-Up Shop; and registering for the event with a one-time or recurring donation. 100% of the proceeds from the event go directly toward supporting SRLP's work.
While pre-registration isn't required, people who pre-register will be able to check-in more quickly and spend more time enjoying the art and each other. Pre-registration closes at 1pm sharp on Friday, February 28! After that time, please simply walk up and register at the door!
Event Schedule & Accessibility
Small Works for Big Change will take place on Friday, February 28 at St. John's Church at 81 Christopher Street.
While the main entrance has steps from the sidewalk to enter, there is an accessible side entrance. Our registration team will be available to assist.
DOORS OPEN ~ 5PM
HORS D'OEURVES SERVED ~ 630PM
ART BIDDING ENDS ~ 730PM
PROGRAM & PERFORMANCES ~ 730PM
ART AVAILABLE FOR PICK-UP ~ 9PM
Contributing artists
*PAC denotes members of SRLP's Prisoner Advisory Committee, TGNCI community members whoa are currently incarcerated in NY state and beyond*
Ace Cardona * Adrien Espinoza (PAC) * Alexi Bernard * Alister Rubinstein * Aliza Shvarts * Angel Favorite * Angel Morisett (PAC) * Anna Svoboda-Stel * april vendetta & Elizabeth Lamb * Brian Healey * Brent Weldon * Caitlin Rose Sweet * CeeCee Colon (PAC) * Christine Sloan Stoddard * Christy Singleton * em north * Enzo * Erica Wessmann * Gabriel Lee * George Niven Wilder (PAC) * Hao Chun Chang * Isabella Rose Adler (PAC) * Jay Coleman * Jen May * Jennifer Silva * Jess Lynch * John Movius * Juno Morrow * Kalani Lee Catbagan * Kay Dana (PAC) * Kit Mills * krissy mahan * Lila Freeman * LM Cronk * Maddie Mutscheller * Mario Sostre * Matthew Gould Lucht * Melanie Cervantes * Monica Mohapatra * Ms. DeeDee Webber (PAC) * Nadav Gazit * Nicole Manganelli * Ms. Phoebe Renee Halliwell * Quito Ziegler * Robert Cepeda * Roin Morigeau * S. Gabriella Kielly (PAC) * Sonya Bogdanova * Sullivan * Vaughn Renner * V Rye * Viveca K. Licata * x senn_yuen
Our fabulous performance line-up!
Sadaya
Jose Xtravaganza
Victoria
Dominique St. James
Sheneeneh & OG
Volunteer
Volunteer shifts are available from Thursday 2/27 to Saturday 2/29. Sign up here for a volunteer shift! You are invited to attend our (non-mandatory) volunteer training session on Friday, February 21 from 6:30 to 8 pm at the Sylvia Rivera Law Project. If you cannot attend the volunteer training and have questions in advance of your shift, please contact Adelaide at adelaide@srlp.org.
More Information
The event is free and open to the public. Bidding ends at 7:30 pm sharp. Registration is available at the door but we recommend pre-registration for a speedy check-in process. Cash and credit card only.
Due to space constraints, art payment and pickup will be available at 9pm the night of the event. For convenience and ease of checkout, art pickup is also available the next day, Saturday, February 29 from 2 to 5pm.
We take cash, checks and credit cards!
Since 2005, over 60 host committee members and more than 250 radical, transgressive, and cutting-edge artists have donated over 300 visionary works of art and countless hours of hard work to make this event a success for SRLP and our communities.
For more information, to volunteer, or sponsor, email adelaide@srlp.org.
Small Works for Big Change is free and open to all. Please consider making a donation to support SRLP's ongoing work when you register to attend. We encourage our allies to contribute at least the $15 minimum suggested donation or a larger amount on the sliding scale. Our grassroots donors are at the heart of our work in movements for trans liberation rooted in racial & economic justice, and we appreciate you!
Raffle!
Participate in our raffle for a chance to go home with a fabulous gift from our community! Don't miss your chance to see a dazzling performance, win a basket of make-up, or spend a night in a stunning hotel on Fire Island! More prizes to be announced.
Attendees will receive one complimentary raffle ticket along with a suggested donation of $15 or more at registration. Tickets will be sold throughout the event: $5 for 1 ticket, $10 for 5 tickets, and $15 for 10 tickets.
Planning Committee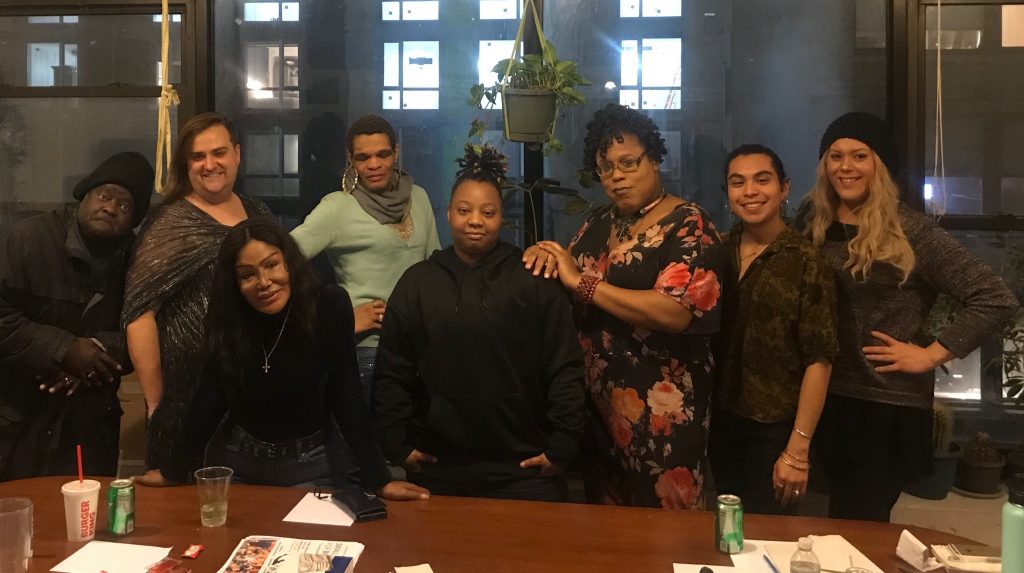 Ms. Cleo, Adelaide Matthew Dicken, Chanelle Sessooms, Sadaya Davis, Phoenix Robinson, VIctoria Bell, Jesusdaniel Barba, Lacey Lynch