When: Thursday, March 8, 2018, 6:00 pm - 9:00 pm (iCal) Where: Gay Men's Health Crisis (GMHC), 446 West 33rd Street, New York, NY (See map)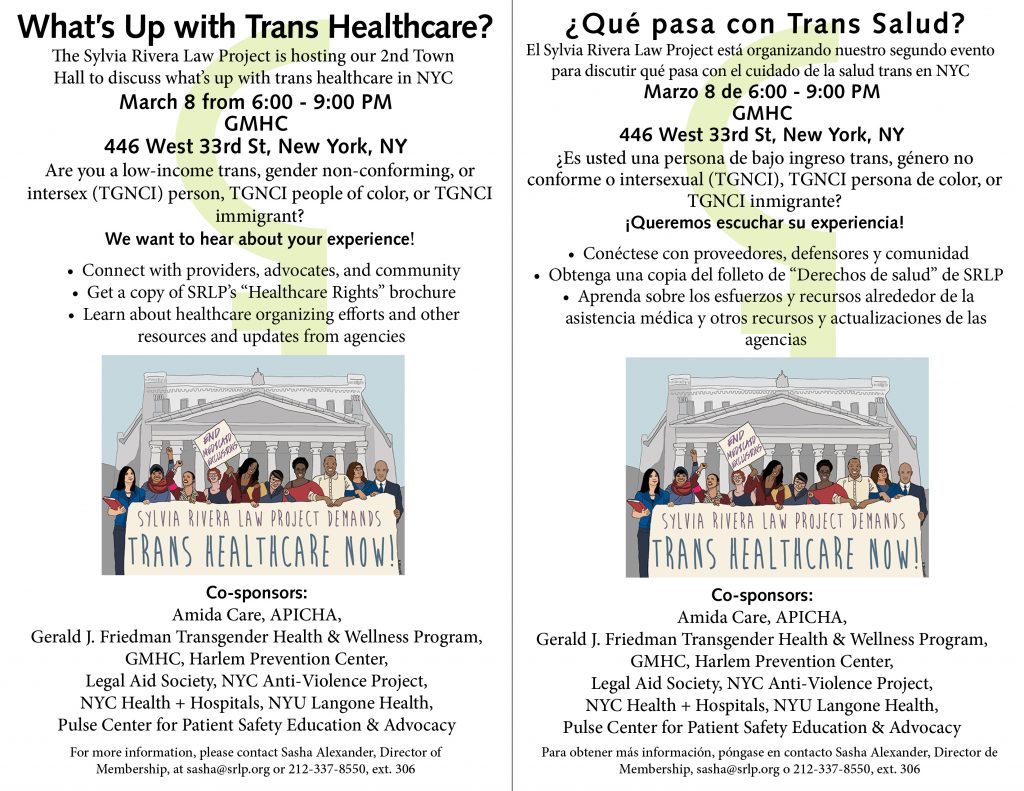 The Sylvia Rivera Law Project is hosting a Town Hall to discuss what's up with trans healthcare in NYC.
The Trans Healthcare Town Hall will happen on Thursday, March 8th from 6:00 – 9:00 pm at GMHC, 446 West 33rd Street, 6th Floor, Dining Hall, Manhattan.
Want to know what's up with trans health? The Sylvia Rivera Law Project (SRLP) is holding our second town hall to create space for trans, gender non-conforming, and intersex (TGNCI) New Yorkers to share their experiences navigating healthcare access at our intersections.
This town hall will feature a panel of SRLP's Movement Building Team members who will share their experiences and expertise as trans women of color who have navigated access to hormones, surgery, and mental health support, worked with insurance providers and emergency health personnel, and more. There will also be a number of speakers from various healthcare and legal agencies who will share updates about their work and take questions.
Join us for an important night of trans healthcare advocacy, education, and community building and connect with city agencies, organizations, and healthcare providers to ensure TGNCI people in NYC can better access necessary trans-affirming healthcare.
If you are interested in co-sponsoring or want more info on this event, please contact Sasha Alexander, SRLP Membership Director.
Online registration has closed for this event. Attendees will be able to register at the door.
Gay Men's Health Crisis (GMHC)
446 West 33rd Street
New York, NY