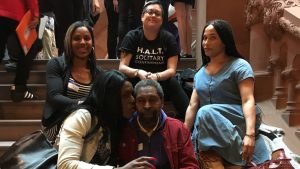 On Tuesday, January 15, the New York State Senate passed the Gender Expression Non-Discrimination Act (GENDA) which Governor Cuomo has said he will sign in to law as part of his "Justice Reform" initiative.
The Sylvia Rivera Law Project continues to maintain that real justice and protection do not come from prisons or state "protectors," but from investing in ourselves. While GENDA will make illegal many forms of discrimination against people on the basis of gender identity and expression, it does not extend these protections to some of the most violent spaces for transgender and gender non-conforming (TGNC) people, and  it will also allow the State to use yet another tool to imprison people in the name of TGNC people and "justice."
Specifically, the version of GENDA that passed the State Senate includes a Hate Crimes Provision; this provision is a central reason for SRLP's resistance to the bill. The Hate Crimes Provision applies only to criminal sentencing and can only be added to a penalty by a District Attorney. The Hate Crimes Provision only applies to certain hateful acts that are already being tried and punished in the criminal legal system, such as physical assault. This provision cannot be used to fight against hateful acts in the civil legal system. For example, the hate crimes provision could not be used to bolster the amount of damages a transgender litigant asks for in a claim against an employer for the hateful act of not hiring them simply because they are transgender. Moreover, under the criminal legal system, the only person with discretion to use the hate crimes provision is the district attorney – the victim of that hate crime has absolutely no power over whether a perpetrator of violence will be tried for a hate crime.
As SRLP has shared in the past, hate crimes laws are used disproportionately to further criminalize people of color. SRLP has a long history of resisting the use of hate crimes laws. In 2007, we released a statement with other sibling organizations. In 2009, we launched a Hate Crimes Legislation Reference Page and a statement on hate crimes in general. In 2017, we added on to that work when then-Attorney General Jeff Sessions stated that the federal government was invested in taking seriously violence against transgender people.
In addition to hate crimes laws being used disproportionately against people of color, the non-discrimination portions of GENDA do not apply to police forces, jails, or prisons. With over 60% of the clients who use SRLP services reporting experiences with arrests, imprisonment, and parole, this means that many TGNC New Yorkers will continue to face enormous amounts of harm at the hands of the State without any protections.
In fact, the New York Civil Liberties Union (NYCLU) has recently filed suit against the state concerning this issue. In the suit, NYCLU claims that human rights law protections do extend to police forces and jails after a transgender woman in Watertown was forced to remove her wig, strip naked, and was sexually assaulted by police. New York State has taken the opposing position, stating that human rights laws, in fact, end at arrest. If New York State truly wanted "justice reform" then a step in that direction would be  allowing for investigations into police, jails, and prisons and acknowledging that our human rights do not end where the criminal legal system begins.
Discrimination and violence against transgender and gender non-conforming people are real and extremely serious, but we refuse to allow our lives and experiences be used as pawns in a game that grants the government a blank check to incarcerate New Yorkers for a longer period of time while failing to hold the State's most violent institutions accountable: police forces, jails, and prisons. At SRLP, we feel it important to say "no incarceration in our names." We know first-hand that prisons encourage hate and violence, and we want no person to be subjected to those systems of punishment.
To Governor Cuomo and all elected officials: instead of hate crimes laws that are disproportionately used against Black and Brown communities and result in additional and longer sentences, invest in TGNC people protecting ourselves. Invest in us by providing us with what we need to care for ourselves: homes, safe schools without police presence, access to quality medical and mental health care, and meaningful employment. Get rid of gender markers on identity documents, re-work the name change laws so that individuals do not need to publish their names in newspapers or bring their original birth certificates to court, and ensure funding for these projects goes to TGNC people and our organizations. These are the actions that would assist us in building strong communities. A government that denies us our identities, our dignity, and our self-determination cannot bring about justice by placing more people in prison for longer; incarceration only compounds the trauma and violence we have already endured.
SRLP continues to work against the prison industrial complex. We continue to invest in our communities, and we continue to believe that turning towards each other is our best bet at safety and support.