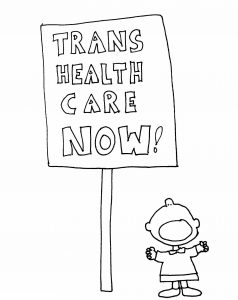 In direct response to Cruz v. Zucker, our lawsuit challenging New York State's ban on transgender health care coverage, oral arguments will be heard this coming Monday October 17 on the medical necessity of gender-affirming health care for trans youth.
SRLP asks that you join us and our co-counsel The Legal Aid Society and Willkie Farr & Gallagher LLP to show up for and support transgender youth in New York State.
The oral arguments arise out of a Notice of Proposed Rulemaking (NPR) that the State recently filed in direct response to our lawsuit and the work our communities have been doing for decades. This NPR was filed days before we were set to go to trial and, if adopted, would remove a bar to gender-affirming health care coverage for Medicaid recipients under the age of 18. Within the NPR, the State, for the first time, admits that gender-affirming health care for people under the age of 18 is medically necessary. In addition, this NPR would repeal certain provisions that improperly deem certain medically necessary procedures as "cosmetic."
Given the State's filing of the NPR, Judge Rakoff, our presiding judge, has postponed the trial in Cruz v. Zucker and granted permission for SRLP and our co-counsel to seek summary judgment on the remaining claims based on the State's admissions in the NPR.
The oral argument will take place at 4 pm on Monday, October 17 in Courtroom 14B of the Daniel Patrick Moynihan United States Courthouse 500 Pearl St. The argument will be open to the public and your respectful attendance would support the individual young people who have shared their lives and stories with the Court.
Please be aware that you cannot hold banners, make noise, or otherwise voice support – your presence is all that is needed to say that our youngest community members deserve access to this vital and life-saving health care. In order to attend you will need to pass through a metal detector and court officers. Please do not bring food or drink with you or anything that could be considered a weapon. You will need to check all electronic devices not used for health reasons with a court officer; this means no phones, cameras, ipods, or other devices during the proceedings. You may also be asked to show a valid ID such as your passport, NYC ID, or NYS ID.
Medically necessary and life-affirming health care cannot be something that our young people have to wait to access.
You can read the full press release here and the full text of the NPR here.