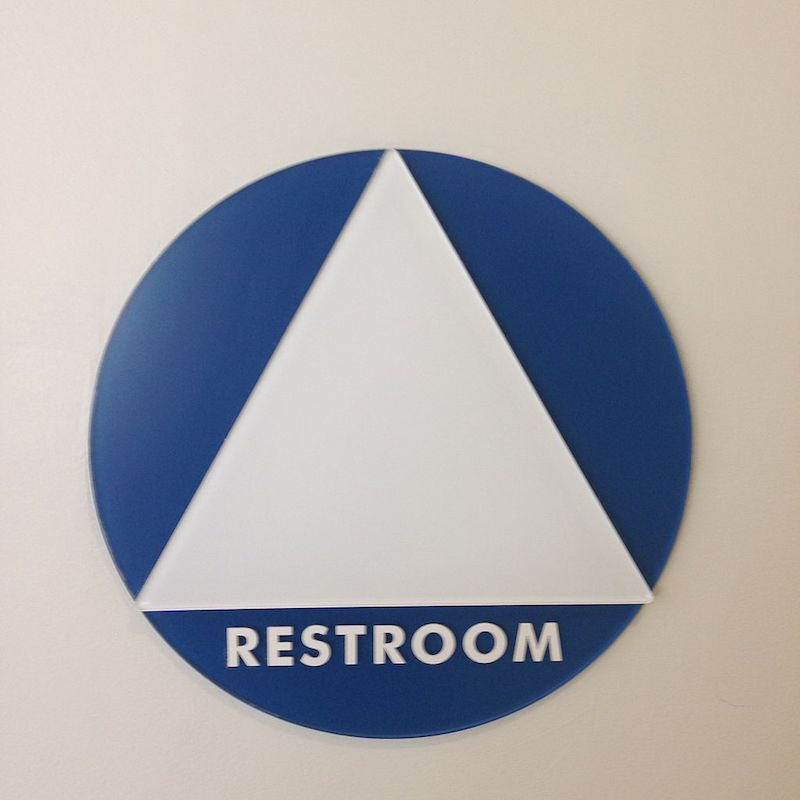 Following the exciting announcement this summer that all single-occupant bathrooms in New York City must now be gender neutral, advocates and community leaders have been working hard to get the news out. On Tuesday, September 27, 2016 a group of LGBT direct service advocates met to discuss the impact of this legislation and the work that still needs to be done in creating affirming and safe spaces for transgender, gender non-conforming, and intersex (TGNCI) people in NYC.
According to the bill passed by the New York City Council in June 2016, single-stall bathrooms in NYC must no longer say "men" or "women." All bars, restaurants, and businesses in NYC must comply with this law, and new signage must be in place by January 1, 2017. Failure to comply may result in a fine of up to $500. Under the new law, "single-occupant toilet rooms" are defined as restrooms with only one toilet or one urinal that can be locked from inside. Unfortunately, this law does not apply to larger multi-stall gender-segregated bathrooms, or to bathrooms, such as those in prisons and jails, that cannot be secured from the inside and are required to be segregated under different laws.
At September's roundtable discussion, Sebastian Maguire, the Legislative Director and Counsel to New York City Council Member Daniel Dromm, explained some of the upsides and downsides of the new law. This law extends the reach of an executive order mandating that all city-owned buildings, including agency offices, public parks, and other public spaces, be required to allow individuals to freely use single-sex facilities consistent with their gender identity. Following passage of the new law, all businesses are now prevented from labeling single-stall bathrooms with gendered signage.
Sebastian shared some positive news with the report that a Manhattan high school will become the first in the city to create gender-neutral multi-stall bathrooms. This is an encouraging step forward as community members and advocates look to incorporate multi-stall gender neutral bathrooms within this single-stall legislation. However, Sebastian pointed out that the current law relies on language that reinforces the gender binary. This is problematic for several reasons, not the least of which is that this language once again elides those within TGNCI communities who do not identify within the gender binary. As is often the case with creating social change through the legal and political systems, compromises continue to be made in the fight for legislation that is truly reflective of the needs of people within TGNCI communities.
In addition to discussing the new law, Kyle Rapiñan, SRLP's Director of Survival and Self-Determination Project, spoke about the discrimination that some TGNCI people experience within the shelter system. Kyle described how some shelter employees enforce rules differently against transwomen and TGNCI folks, specifically in relation to bathroom access and late passes. Although there has been talk about opening a trans-specific shelter, the Human Resource Administration (HRA) has not provided any further information about those plans. In light of the discrimination that TGNCI folks continue to experience, it is necessary to provide more trans-competency and compliance trainings for shelter employees. If you are experiencing discrimination within your shelter, you should file a complaint with HRA or with the Department of Homeless Services (DHS). Contact SRLP for more information if you need legal assistance.
Some positive information to pass along came from Ezra Cukor, a staff attorney at the New York City Commission on Human Rights. Ze spoke about the process for filing a claim with the Commission and stated that the Commission is able to initiate complaints against city agencies if the agency has a documented pattern of discrimination. This means that the Commission can bring an action against an agency that has a policy or practice of discrimination. You have up to one year to make a complaint to the Commission about an agency's policy or practice of discrimination, and up to three years to file a complaint in civil court. For more information about filing a complaint, visit the Commission's website. Again, contact SRLP for more information if you need legal assistance.
Overall, the changes that we have seen this past year in NYC have been positive; it is encouraging that the general public is now aware of issues regarding bathroom access, a problem with which TGNCI folks have long suffered. It is equally encouraging that there appears to be a greater interest in affirming self-expressions of gender identity. However, we know as members and advocates of TGNCI communities that the struggle to stay safe continues to be real.
If you have experienced discrimination based on your gender identity, or are interested in learning more about your rights as a TGNCI person, please come to our drop-in intake at SRLP's office on Thursdays between 1:00 pm and 4:30 pm. The last drop-in intake for 2016 will be on Thursday, October 27. We can also be reached all year at (212) 337-2880 ext. 308.
As long as individuals face violence and discrimination in public and private, it is necessary for us to push for inclusive language that does not rely on binaristic language, for compliance and enforcement of anti-discrimination laws, and for social, legal, and emotional support for those community members who are impacted by systematic oppressions.