Hi community! SRLP has a few reminders for you!
Wednesday 6/25: Join SRLP for a Trans Day of Action Sign-Making Party!
When: Wednesday, June 25, 2014, 4:00 pm – 6:00 pm (iCal) Where: SRLP (Sylvia Rivera Law Project), 147 W 24th St, 5th Floor, New York, NY (See map)
Come on over to SRLP to get ready for the 10th annual Trans Day of Action (TDOA), the annual march and rally for trans and gender nonconforming people of color liberation and justice will take place to honor the legacy of the Stonewall Riots! We'll be making signs, coming up with our best cheers, and getting ready to take it to the streets. If you can't participate in the march, this is the perfect alternative for involvement! All you have to do is show up and we'll bring the supplies.
To RSVP or for more information, email Gabriel at gabrielfoster@srlp.org or call 212-337-8550 ext. 309.
This event is FREE and ALL ARE WELCOME.
Metrocards and food will be provided.
Friday 6/27: Join SRLP and our comrades for the 10th annual Trans Day of Action!
When: Friday, June 27, 2014, 2:00 pm – 5:00 pm (iCal) Where: Pier 45, W. 10th Street and West Street, New York, NY (See map)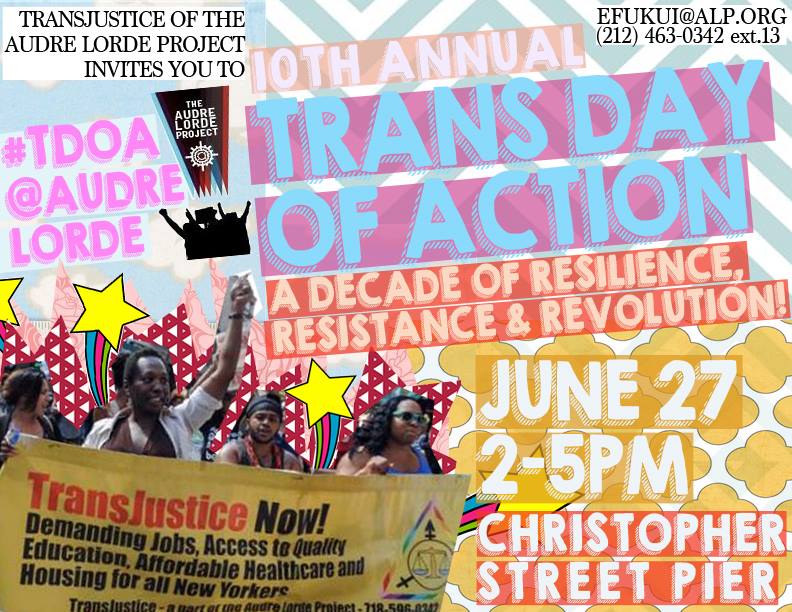 Join TransJustice of the Audre Lorde Project as we celebrate a decade of resistance, resilience and revolution throughTrans Day of Action!
We are excited to take to the streets to honor the legacy of the Stonewall Riots through our annual march and rally for Trans and Gender Non-Conforming People of Color Liberation and Justice!
Come reclaim the streets of New York with us at the Christopher Street Pier on June 27th, from 2:00-5:00 pm.
Tweet #TDOA @audrelorde
On Friday, June 27, 2014, TGNC (Trans and Gender Non-Conforming) People of Color (POC) and allies will take the streets of New York City once again to demand justice and let the world know that the Stonewall Rebellion is not over and we will continue fighting for justice and raising our voices until we are heard.
We call on activists and organizers from all movements, both locally and nationally, to endorse this call to action and to build contingents to march in solidarity together on Friday, June 27, 2014.
To endorse the Trans Day of Action 2014, send an email to endorsetdoa@alp.org. For more information about the march send an email to Elliott at efukui@alp.org or contact TransJustice at 212-463-0342 x 13.
This year we are excited to celebrate a decade of resistance, resilience and revolution as we call for social and economic justice, and raise awareness of the many pressing issues TGNC POC face. On this day, the 45th anniversary of the 1969 Stonewall Rebellion, we will lift up and celebrate the legacy of the amazing TGNC POC warriors that have paved the way for our movements today. We will also honor and continue the struggle for justice, liberation, and recognition for all oppressed people across the globe.
We as TGNC People of Color (POC), recognize the importance of working together alongside other movements to create the world we want to see. We live in a time when oppressed peoples including people of color, people who are currently and formerly incarcerated, immigrants, youth and elders, people with disabilities, women, TGNC people, and poor people are underserved, face higher levels of discrimination, heightened surveillance and experience increased violence at the hands of the state. Let's come together to let the world know that TGNC rights will not be undermined and we will not be silenced!
_ _ _ _ _ _ _ _ _ _ _ _ _ _ _ _ _ _ _ _ _ _ _ _ _ _ _ _ _
Acompaña a JusticiaTrans del Proyecto Audre Lorde a celebrar una década de resistencia, resiliencia y revolución hasta el Día de Acción Trans!
Estamos emocionadxs de poder salir a las calles para honrar el legado de los disturbios de Stonewall a través de nuestra marcha anual y concentración para la comunidad Trans y Género No-Conformes de Liberación y Justicia de Gente de Color!
Ven a recuperar las calles de Nueva York con nosotrxs en el muelle de la calle Christopher, este 27 de junio, de 2:00 a 5:00 pm.
Pier 45
W. 10th Street and West Street
New York, NY
SRLP is still accepting applications for the Director of Outreach and Community Engagement!
The Sylvia Rivera Law Project (SRLP) works to guarantee that all people are free to self-determine their gender identity and expression, regardless of income or race, and without facing harassment, discrimination, or violence. SRLP is a collective organization founded on the understanding that gender self-determination is inextricably intertwined with racial, social and economic justice. Therefore, we seek to increase the political voice and visibility of low-income people and people of color who are transgender, intersex, or gender non-conforming. SRLP works to improve access to respectful and affirming social, health, and legal services for our communities. We provide direct legal services with the understanding that to create meaningful political participation and leadership, our communities must have access to basic means of survival and safety from violence.
Staff Opening: Director of Outreach & Community Engagement
SRLP is hiring for one 32-40 hour position in the Movement Building Team (MBT). The work of this team is centered on building the participation and leadership of SRLP's communities in the programmatic work of the organization.  MBT is primarily responsible for building SRLP's membership and developing the political power and participation of community members and hosts regular occurring membership meetings, know your rights trainings and skill shares.  These meetings serve as an entry point to the organization and focus on building power through skill shares, political education and connection to policy and campaign work.  The Movement Building Team helps build and retain relationships with community members, helps grow their capacity to participate in SRLP's work, and helps maintain and build community member participation in SRLP's policy work.
The Director of Outreach & Community Engagement (Outreach Director) works closely with the Membership Director to put on SRLP's regular occurring events.  These are open spaces where community members can come learn skills, share political ideas and histories, get involved in upcoming protests and community events, and generally plug into SRLP's work. In addition to jointly coordinating MBT events, the Outreach Director also focuses on getting the word out about SRLP's work by engaging people who come to the office for services and coordinating other outreach.  The Outreach Director also coordinates outreach to our imprisoned community members through SRLP's Prisoner Advisory Committee and Prisoner Pen Pal Project.
Primary Responsibilities:
Coordinate volunteer outreach team and do outreach for SRLP's events
Plan and implement distribution plans for SRLP's print materials
Share responsibility for keeping SRLP's website updated
Work with other staff members to train and support the leadership of members to speak on behalf of SRLP
Work with Direct Services Team to coordinate SRLP's Prisoner Advisory Committee (PAC) , a program which enables currently imprisoned trans people to provide input on prison-related and collective policy issues and orient newly released PAC members to SRLP
Supervise SRLP's Prisoner Postcard Program for trans people who are imprisoned in New York State.
Coordinate Publication of In Solidarity, SRLP's Prisoner Newsletter
Collaborate on projects and events with the allied organizations in the Miss Major-Jay Toole Building
Respond to the SRLP Info email account
Train and support front desk volunteers
Movement Building Team Responsibilities:
Plan and host MBT team meetings
Coordinate annual MBT work plan development and implementation
Develop leadership of Movement Building Team members to participate fully on the team and in the collective
Build relationships with SRLP community members
Participate in development of fact sheets and position statements
Represent SRLP's work at panels and conferences around the country
Maintain client welcoming area with up-to-date information on community events and opportunities
Hire, supervise, and support MBT interns and volunteers
Participate in speaking engagements
Other Responsibilities
Assist in maintaining the office
Participate in bi-weekly staff meetings, quarterly Collective Meetings and bi-annual retreats
Participate in planned individual, team and staff supervision and evaluation activities
Promote organizational goals and values in various external activities
Participate in fundraising activities as necessary
Desired Qualifications
Familiarity and direct experience with SRLP's constituency
Demonstrated ability to organize and prioritize work and manage multiple tasks both independently and within a collaborative team setting
Excellent verbal and written communication skills
Commitment to gender self-determination and racial and economic justice
Willingness to work in a collective environment with consensus-based decision-making
Fluency in Spanish and English
Proficiency with Windows-based word processing, spreadsheets, databases, email and the Internet
Design skills and implementation experience
Hours and Compensation
This position is a salaried position with medical, dental and optical benefits as well as three weeks paid vacation. SRLP pays the full amount of health insurance premiums.
32-40 hours/week, some evenings and weekends
$43,068-53,836-/year
Consistent with our values as a collective, all staff receive salaries based on the same hourly rate.  An increased salary is possible based on need, such as for people supporting family members.
How to Apply
To apply, please send a cover letter, resume, and three references to the MBT Hiring Committee,  Sylvia Rivera Law Project, 147 West 24th street, 5th Floor, New York, NY 10011 or to hiring@srlp.org with subject line "MBT Outreach Director".
Applications should be submitted as soon as possible; they will be accepted on a rolling basis until the position is filled.
SRLP is an equal opportunity employer.  People of color, trans people, women, people with intersex conditions or DSDs, people who have lived in poverty, people who have experienced criminalization or imprisonment, people with disabilities, immigrants, and lesbian, gay, bisexual and queer people are strongly encouraged to apply.
No phone calls please.  We will only contact applicants we intend to interview.