I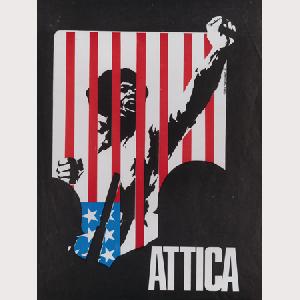 visited Attica Correctional Facility on July 12, a hot day even for Western New York. Despite how many times I have seen images of Attica Correctional Facility, the first time approaching it was startling. The facade is a huge wall that wraps around the entire complex almost like a child's drawing of a castle. It obscures the entire footprint of the facility and everything that happens inside of it.
If you have never visited a prison, it may be worth it to read SRLP's Solidarity in Action, which tries to guide trans, gender non-conforming, and intersex visitors through the process to make it as safe and successful as possible. In New York State, all visitors must go through metal detectors and declare all items on their person. Depending on security classification, visits are often allowed only on certain days. Facilities' rules on dress are body-shaming and sexist, and often target people of color. Rules such as religious dress, wigs and hair-pieces, underwire bras, and "tight" clothing can make visits horrible experiences for all people. To add to this, when your loved one is transferred you need to re-learn an entire system of visitation rules, which can be quite overwhelming. For example, the same watch you wore to Sing Sing Correctional Facility isn't allowed at Clinton Correctional Facility as Clinton Correctional Facility does not allow watches at all. The lockers available for visitors at Great Meadow Correctional Facility (increasing the ability of people to take public transit to the facilities) aren't available at Attica, meaning you must come to Attica without a cell phone and wallet, or be prepared to throw away anything not allowed in the facility.
With over 53 prisons spanning New York State a visit of eight hours (the longest you can generally visit for) may take multiple days of travel. A family from New York City visiting someone at Attica might need to take three days off, one day to travel up, one day to visit, and another day to return to New York City. The expense of hotels, cars, gas, and food can quickly add up.
As it was my first time to visit Attica, I was very fortunate that a woman who was visiting family there took me under her wing to guide me through the process. Leaving the processing room and finding the visitation room itself involves walking outside, a series of additional checkpoints, and a long winding hallway. She talked me through it all and made sure that I got to the visitation room safely. As we walked outside between the different buildings, I asked her if she had waited long. "Yes," she said, "but it doesn't matter if I get here before 9 am and stand outside, it still takes forever."
As we approached the visitation room, we both showed our passes to an additional officer who, upon viewing mine, yelled: "look out, it's an attorney" to everyone around. When I finally got to the visitation room, I was informed that, as my client was in Protective Custody, she has a different visitation schedule. Most visitation rooms are open from 9 am to 3 pm, but my client would need to leave 15 minutes early to avoid leaving with everyone else. While slightly surprised, as I haven't encountered this at any other facility, I could understand this precaution.
SRLP began planning this visit in February as part of a summer of the Prisoner Justice Project crisscrossing the state to visit Prisoner Advisory Committee (PAC) members and clients. Tania, a legal intern with SRLP this summer, previously wrote about a visit to Great Meadow Correctional Facility here. In February I identified three individuals who had all been at Attica Correctional Facility for a significant period and whom I thought might benefit from a visit. I continued to check on these individuals throughout the months to ensure they wanted the visit and would be available during the general date and time I thought I would be there. At the end of June, all three individuals were transferred out of Attica Correctional Facility. It was a surprise and shock but, having already arranged the logistics, we decided to go ahead with the visit and meet with a newer member who had just been transferred to Attica Correctional Facility.
As a legal visitor, I was able to use the rooms off the side of the general population visitation room at Attica Correctional Facility. The small rooms, about the size of a single-stall bathroom, are fairly normal for legal visit rooms in New York. A table and two chairs were all that were inside the room. I was required to sit with my back to the door while my client would need to sit facing the door. Due to this arrangement, I didn't see the officers coming to tell me just how unsuccessful this visit would be. When the officer entered my room, I turned around expecting to see my client for the first time. Instead, an officer came in to explain to me that my client had a medical appointment that would conflict with our visit. My client, who knew I had come all the way from New York City to see her, was reticent to choose the medical appointment over our legal visit.
DOCCS continues not to take transgender and gender non-conforming people's health care needs seriously. A client who is transitioning during incarceration may wait up to 6 months to have an initial consultation with a psychologist for a Gender Dysphoria diagnosis. This person will still need to wait three more months for the psychologists' final report on the diagnosis. If a medical appointment is skipped, even for a legitimate reason such as a legal visit, it can take weeks to be re-scheduled. For all of these reasons, I encouraged my client to take her medical appointment and assured her that I would try to return in a few months.
I am extraordinarily privileged in that visits to SRLP clients are covered by fundraising and donations and that I can work remotely while traveling. I don't have child or elder care obligations, and I don't have any pets that would require alternative arrangements. Had I been a family member visiting a loved one, I would have spent hundreds of dollars and taken three days off of work only to have to make a difficult decision of returning on time or extending my visit an additional day and hoping that my work and bank account would allow for it.
There is no question that visits are a vital part of anyone's survival in prison. Visits give people hope, they show the facility that the individual is loved and cared for, and they help advocates and attorneys keep a watchful eye on the conditions to which their client is exposed. Studies have shown that frequent visits reduce recidivism and help, in particular, parents to reintegrate into their homes when they come home. Despite – or because of – this, visits are extraordinarily difficult for most families. The strenuous requirements, the cost, and the time away from work, family, and other obligations, can be insurmountable. Adding to that, if your loved one is frequently transferred, has intensive medical conditions or other needs, a long-planned visit may not happen after you have already invested significant money and time.
In our recent data analysis of the It's War in Here survey responses, 31% of respondents had never had a visit, even a legal one. For transgender and gender non-conforming people, legally recognized family may not acknowledge us, or their visits may be more triggering than healing. For this reason, communication with people behind bars – especially to and from TGNCI people – can help to reduce the isolation that a lack of visits can cause. As I return to SRLP after another visit to the New York/Vermont border to visit with two of our members at Clinton Correctional Facility, I urge you all to come to our legal and on-legal mail nights, and to be informed of our other PAC writing opportunities by signing up to become a volunteer. These events help us to  break down barriers and shower our people with love.