Following a year of continued attacks on our community, we are working to mobilize and build power for trans and gender non-conforming (TGNC) folks here in NYC and beyond. Here is a recap of what SRLP's Movement Building Team has been up to recently:
Leadership Development and Movement Building
Our Trans Healthcare Town Hall, "What's Up with Trans Healthcare", on November 9th was a huge success, bringing together legal and health advocates, providers, city agencies, and our communities, who are being impacted by barriers to medical care. We heard updated information from Simon Andrade, LGBT Health Coordinator for the New York City Department of Health and Mental Health (NYCDOHMH) and got updated information from Sarah Bender, the New York City Health + Hospitals Corporation's LGBTQ Equity Liaison, on how to contact the city's public hospitals and clinics when experiencing any harassment or discrimination. We released informational sheets on Medicaid coverage for TGNC youth, adults, and people attempting to access gender-affirming surgery. Keep an eye out – we'll be launching these online soon!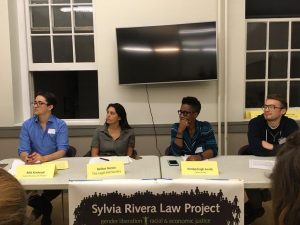 Scamming the Patriarchy on November 19th was a youth summit organized by the New Museum and collaborators that featured the powerful work of TGNC youth. SRLP served as a co-sponsor, and Giselle, a graduate of TRANSFORM, SRLP's holistic leadership development program, organized a screening and discussion featuring TGNC youth media makers and worked on the Youth Advisory Board organizing committee.
Policy Work
For the last several years, SRLP has been part of a coalition organizing forums in each borough of the city to address the issues and needs of TGNC New Yorkers. Involving hundreds of participants, these forums were able to create necessary space to identify problems and solutions from our communities.  On November 20th, SRLP staff and community leaders helped organize and speak at a press conference to release a policy brief, "Solutions Out of Struggle and Survival: A Transgender and Gender Non-Conforming Policy Brief for NYC", and have continued organizing efforts to meet with city agencies to advocate for the recommendations.
Media
Check out this awesome video created by TGNC youth at Global Action Project (GAP), a youth media organization. GAP came to many of our Trans Forums to document the process, interview community members and leaders, and support creating accessible ways to get the policy and community recommendations we drafted to our communities.
Stay tuned in the new year for the next Town Hall in our series, "What's Up with Trans Healthcare" on January 31, 2018.